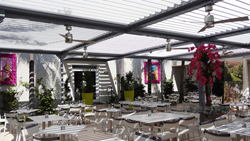 Arcadia is the Apple of Louvered Roofs
(PRWEB) November 11, 2015
An industry leader in innovative design, Arcadia Louvered Roofs has launched its first app, iLouver. This app allows users to program and control their Arcadia system from their smartphone. iLouver is available at no cost in the Apple App Store and Google Play Store. It provides its users with a variety of options including programming their roof to open and close at certain times of the day, or choosing between 4 preset positions so that users can easily find that perfect position at the right time of day.
"Great companies are built on a combination of great products and people", said Scott Selzer, Founder and CEO, Arcadia Louvered Roofs, Inc. "At Arcadia we have both. The iLouver Technology Package is just one more addition that will set us apart from the rest and truly change the way people enjoy their backyards."
The Arcadia system is ideal for commercial and residential use. They are built with weather sensors that automatically open and close the roof depending on the conditions. The roof can close completely during rainy weather and then senses when it stops raining and re-opens to the last known position or any preset position programmed. The system also includes a wind sensor and Hurricane Mode on the app. This is similar to Tesla Motor's Biodefense Mode on its new Model X; Arcadia's Hurricane Mode will protect the system from a natural disaster. When in "Hurricane Mode", the Arcadia is able to sense excessive wind speeds, which will override all functions and open the louvers to allow for the air to freely flow through the louvers. This type of customized programmability is what sets ALR apart from any similar product.
Arcadia Louvered Roofs are manufactured in the United States and are made from recycled aluminum and stainless steel components. The Arcadia system is perfect for homeowners looking to maximize the use of their outdoor living space. It is also ideal for commercial projects such as restaurants and resorts. The adjustable slats are controlled by the push of a button and come in a variety of colors. Visit arcadiaroofs.com for more information.
"Throwing away your remote control and grabbing your smart device is one thing; understanding that your louvered roof can think on its own is another," said Selzer. "iLouver by Arcadia provides ultimate control of your outdoor living environment all from the palm of your hand."
About Arcadia
The company was founded in 2011 by CEO and Chief Product Architect, Scott Selzer and has become one of the fastest growing privately held companies in the United States. With expansions including a new manufacturing facility in Georgia, as well as plans for new locations coming to Florida, Texas, Nevada and Canada. Arcadia's goal is to better serve its continuously growing network and provide the highest quality in products and customer service. The company was named as a 2015 Honoree to the Inc. 5000 list. Arcadia is the smarter side of outdoor living. Bring the Indoors Out.
Contact:
Aaron Evans
800-303-5248 EXT 15
aaron(at)arcadiaroof.com