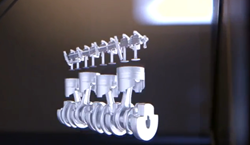 We are super excited to offer these Hologram units as the feedback has been outstanding!
Chicago, IL (PRWEB) October 28, 2015
Absolute Vision Media Inc. a Chicagoland-based media and production group, has announced the launch of 3D Hologram Rentals (3DHR), a new holographic rental and media company. 3DHR is designed from the ground up to "wow" your audience, delivering incredible visuals and stunning holographic imagery at an industry-leading value. Several new video examples can been viewed on their YouTube page. Building upon both Absolute Vision's reputation for high-quality branding and media, and sister company Chicago Projection Mapping's commitment to cutting-edge technology, 3DHR makes holographic displays easy and convenient for any kind of trade show, exhibit, corporate, or convention environment. More information is available via http://www.3DHologramRentals.com or by calling their office location at 630-620-0000
Created by the team behind Chicago Projection Mapping, 3D Hologram Rentals delivers the impact and wonder of holographic imagery in a stand-alone display unit. Using high-end components and modern advances in holography, your holographic content will appear bright, vivid, and clear, suspended in 3D space to the amazement of your audience. 3DHR offers over a dozen templated looks for easy setup, and for custom content and logos, 3DHR uses Absolute Vision's award-winning animation team to develop CAD accurate representations of your visuals, branding, and products.
3DHR offers hand-designed media packages, available for all levels of engagement. 3DHR offers from simple stand-alone display units, to full 360º holographic units, to interactive and wireless controllers. Additionally, physical objects under 6" can be placed within the holographic enclosure, giving the impression of imagery leaping off your product's surface. Specialty-designed holographic enclosures in non-standard sizes are also available by request, and accommodations can be made for long-term and permanent rentals.
"3DHR marks a turning point in the accessibility of holograms to the B2B and B2C community." said Mark Smith, owner and creative director for 3DHR. "We've always prided ourselves on being ahead of the curve, and this is just one more area of futuristic technology that we're making simple and easy for the business and corporate community."
3D Hologram Rentals is equipped to service a number of industries, ranging from medical to pharmaceutical, manufacturing to agriculture, entertainment to retail, and everything in-between. 3DHR officially launches on November 1st 2015 with limited time offers for early-bird rentals. Local Chicago rental requests may be given addition discounts.
Interested groups and agencies can email info(at)3dhologramrentals(dot)com or call 630-620-0000 for additional details and exclusive offers.