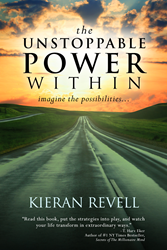 "I recommend this powerful work to anyone wanting to get from where they are now to a point of absolute prosperity. Apply the principles and watch your life change in extraordinary ways." --Loral Langemeier, Author of The Millionaire Maker, Coach, Profes
(PRWEB) October 27, 2015
[Sydney, Australia] As a child, Kieran Revell suffered from the impact of an advanced speech stammer. He was taunted and constantly bullied from the age of seven until seventeen, when he cured himself of the affliction. For the first time in ten long, dark and miserable years he saw the world in a completely different light.
At age seventeen Revell survived a near-drowning episode in the surf. He believes he received a message from his long-dead grandparents. It opened his eyes to a brand new and much more colorful perspective on life.
In 1997, Revell spent a week living on the streets to better understand the plight of the homeless. This experience opened his eyes to the compassion (and indifference) of humanity. He spent the time speaking to so many disengaged people; observing them and understanding their stories of tragedy, loss and heartache.
These and other aspects of his life set Revell on the enlightened path he now follows. He has realized his life's purpose. He is a man on a mission with his sights set on a global picture as he goes about making a difference.
As a consequence of his drive and doggedness, his new book, 'The Unstoppable Power Within' has been released by Sound Wisdom Publishing of Pennsylvania. The book has received unprecedented support from the world's leading speakers and coaches. They include Dr. John F. Demartini; Brian Tracy; Bob Proctor; T. Harv Eker; Dr. Joe Rubino; Jim Stovall; Terry Hawkins; John Harricharan; James Donovan and many others.
The work sets out a very succinct and easy to follow path to creating and living a brighter, more fulfilled existence. Thanks to the unique content of the book, it generated a great deal of global interest at the 2014 Frankfurt International Book Fair. As a consequence, a number of international rights deals continue to be negotiated.
Revell has agreed to a deal for his second book, which is due for release later in 2015. It continues the theme of personal and professional enrichment, with a proven step by step guide for the reader who is serious about their life and the future.
Revell refuses to surrender his dream of assisting, supporting and encouraging a global drive to assist the poor and underprivileged. He created his company 'Kieran Revell International' as a vehicle to bring his message of hope to a global audience. Through his books, videos, posts, seminars, keynote speeches and personal appearances he continues to enrich and empower the world.
Revell has several other life-enriching works in the pipeline. They include a number of additional books; several situational real life programs for the homeless and disadvantaged; a twelve part television drama series revolving around empowerment in disability and a musical drama with sung narration (for which he wrote the libretto: the melodies were composed by Dorothy Gill).
It remains Revell's vision to see a world free from pain, poverty, anguish and tyranny – one step, one kind word, one dream at a time.
Revell created his '7 Pearls of Spiritual Leadership Wisdom' program to re-invigorate business, elevate confidence, initiate workplace harmony and establish a new warmth and equilibrium within the greater global community.
More information about Kieran Revell International is available at http://www.kieranrevell.com
'The Unstoppable Power Within' is available at international bookshops; at all major online bookstores including Amazon; Barnes & Noble; Barneys and Angus & Robertson. You can also buy at http://www.soundwisdom.com
Imagine the possibilities ….