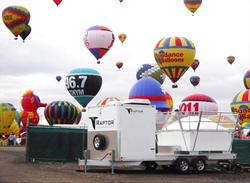 Panama City, FL. USA, (PRWEB) October 28, 2015
DeTect, Inc. (http://www.detect-inc.com) announced today the successful operation of the RAPTOR XBS-BL boundary layer radar wind profiler at the 2015 Albuquerque International Balloon Fiesta. The Albuquerque International Balloon Fiesta is a yearly festival of hot air balloons that takes place in Albuquerque, New Mexico, USA during early October. The Balloon Fiesta is a nine day event, and has over 500 balloons participating each year. The RAPTOR was purchased by the City of Albuquerque to system provide real-time wind speed and direction in three dimensions helping forecasters and balloonists to launch safely. DeTect's wind profiling radars operates by transmitting low level radio frequency (RF) energy upward and then measuring the Doppler of energy backscattered by clear air turbulence. The system is portable and will be used year round at the Double Eagle Airport.
About DeTect: DeTect's Meteorological Systems Division is the leader in wind profiler technologies and the company's modern RAPTOR systems incorporate the latest in digital processing technology and functionality delivering significantly improved system performance and reliability. Other DeTect radar products include airspace and marine security radars, drone surveillance radars, border protection radars and bird radars for aircraft-bird strike risk avoidance, wind farm bird mortality risk mitigation, and, industrial bird control and protection. Since 2003, DeTect has manufactured over 240 advanced radar systems with over 50% exported from the US to users in Canada, South America, Europe, the Middle East, Africa and Asia.