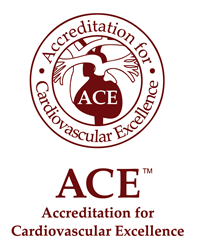 By advancing quality standards to enhance patient care, organizations such as ACE and SCAI promote excellence in invasive and interventional cardiovascular medicine, and serve as a guiding light in ensuring quality - Charles E. Chambers, MD
Washington, DC (PRWEB) October 28, 2015
This month, Accreditation for Cardiovascular Excellence (ACE) expands its geographic reach with physician audiences on both sides of the Pacific Rim. The organization's widening global focus on quality improvement is reflected in two separate presentations at interventional cardiology conferences in San Francisco, Calif. and Beijing, China, both of which highlight the benefits of ACE accreditation.
The ACE Pacific Rim showcase started October 11 at Transcatheter Cardiovascular Therapeutics (TCT) 2015 in San Francisco, the world's largest meeting specializing in interventional cardiovascular medicine. ACE's Chief Medical Officer Bonnie H. Weiner, M.D., MSEC, MBA, MSCAI, FACC, delivered a presentation entitled, "ACE and Quality: Is It Worth It for My Lab?" Dr. Weiner's presentation was part of the SCAI Cath Lab Boot Camp at TCT 2015, and outlined the five-step ACE accreditation process and summarized the benefits of accreditation for cardiac catheterization labs, including validation of quality care, appropriate patient selection, internal review processes and reduced costs. She also presented findings from 14 ACE accredited facilities in which 93% reported improved quality of care over a one-year period.
"Quality is a journey, not a destination," Dr. Weiner told her audience. "We are here to help, even before you start the accreditation process. ACE can help cardiac catheterization labs overcome obstacles to quality improvement. We engage the entire team in the process."
ACE also figures prominently in a presentation by Charles E. Chambers, MD, MSCAI, at the 26th Great Wall International Congress of Cardiology in Beijing on October 31. His presentation, entitled, "Interventional Cardiology in the Next 10 Years: Where Do We Go from Here?" will evaluate the design differences and clinical outcomes with various types of drug-eluting stents. He will present the theme "quality is more than outcomes," and that credentialing continues to be an important factor in ensuring quality in cardiac catheterization laboratories. His presentation references ACE an independent organization initially established by the Society for Cardiovascular Angiography and Interventions (SCAI). Dr. Chambers highlights ACE's mission "to ensure high-quality patient care and promote patient safety in facilities where invasive cardiac and endovascular procedures are performed."
"Interventional cardiology has a bright future, but the key is in the head and not just in the hands," comments Dr. Chambers, who is Professor of Medicine and Radiology at Penn State University, director of the Cardiac Catheterization Laboratories at MS Hershey Medical Center in Hershey, Pa., and immediate past president of SCAI. "By advancing quality standards to enhance patient care, organizations such as ACE and SCAI promote excellence in invasive and interventional cardiovascular medicine, and serve as a guiding light in ensuring quality."
About Accreditation for Cardiovascular Excellence (ACE)
ACE is an independent organization sponsored by the Society for Cardiovascular Angiography and Interventions (SCAI). ACE offers independent evaluation and monitoring of facilities that provide cardiovascular care. By reviewing facility and operator performance and comparing clinical decision-making to nationally accepted best practices; ACE quality review and accreditation services play a critical role in continuous quality improvement programs. Learn more at http://www.cvexcel.org.