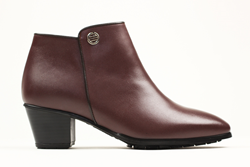 Today, women's booties do not provide sufficient protection against slips-and-falls with their slippery outsoles.
Los Angeles, California (PRWEB) October 28, 2015
Not only has Rhea Footwear been targeting all seasons of shoes, it is now adding Daphne, women's booties, to the family. Daphne's design is unlike any other because of its patented non-slip technology on its outsole. Los Angeles-based company Rhea Footwear is integrating this patented and highest-rated non-slip outsole technology with the simplicity of a women's bootie. The bootie has a beautiful overall design that all shoe-lovers can style and wear for fall.
Rhea Footwear's outsole is made from an exclusive rubber compound that provides the highest traction in the shoe industry in my most slippery surface conditions. Their patented outsole pushes liquids away from the bottom of the sole to provided sole-to-floor contact, which reduces slipping and sliding. These premium booties will help create friction while walking on slippery, rainy streets. "Slip-and-fall accidents are not to be taken lightly. They are one the most dangerous yet overlooked accidents. They happen during the summer on all types of surfaces as well, not just during winter. They can also happen to young people as well as the elderly, and can cause serious health problems," says Rhea Footwear CEO Paul Ahn. Today, women's booties do not provide sufficient protection against slips-and-falls with their slippery outsoles.
After successfully launching its men and women's sandals line well over a year ago, Rhea is ready to launch their women's booties in late October. The booties will be available in black and brown weighing just about 11 oz. and ranging in size from 5.5-9 (half sizes), 10 and 11. These booties are not just a fashion piece for fall; they can be worn all seasons because of their versatility. Rhea designed the booties to have leather lining as well as being water-resistant. It uses a molded EVA insole for maximized comfort and stability.
About Rhea Footwear:
Rhea Footwear was founded in 2013 by Paul Ahn and John Lee who were friends from Cornell University. The three friends realized the need and importance of a non-slip outsole on regular shoes after spending four harsh snowy winters together in Ithaca, NY. Now located in Los Angeles, Rhea Footwear is dedicated to integrating technology with the best materials in coming up with unique shoes.
###