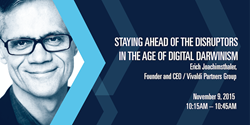 New York, New York (PRWEB) October 28, 2015
Erich Joachimsthaler, CEO and Founder of Vivaldi Partners Group, a branding, marketing and innovation consultancy based in New York, will speak at HX: The Hotel Experience — Rooms to Restaurants show on November 9, 2015, at the Jacob K. Javits Convention Center in New York City.
In Joachimsthaler's talk titled, "Stay Ahead of the Disrupters in the Age of Digital Darwinism," he will address how important shifts in consumer behavior are transforming the hospitality industry. Joachimsthaler will discuss how the customer journey has become far more unpredictable, erratic, elusive, and fluid in today's mobile and digital world; and explore how hospitality brands can build lasting relationships with their customers in the age of digital Darwinism, at a time when businesses need to adapt in order to survive.
"I'm honored to be a part of HX: The Hotel Experience in New York, especially on its centennial anniversary," said Joachimsthaler. "The hospitality industry is creating new ways of engaging consumers that call for creative thinking, new innovations and a deep knowledge of consumer behavior."
Joachimsthaler is a thought leader in branding, innovation, and global marketing with more than 40 published articles and author of two internationally recognized books on brand-building. He is also engaged in numerous consulting projects and undertakes extensive research on global brands, technology, and the formulation of corporate and business-unit level strategies.
About Vivaldi Partners Group
Vivaldi Partners Group (http://www.vivaldipartners.com) is a global marketing strategy firm that unlocks innovation and growth opportunities for brands and businesses in a digitally connected world. Vivaldi Partners Group uses its expertise in strategy, innovation, marketing, and organization to identify new demand-based opportunities, build strong brands, create and realize innovation and growth, and lead internal change and transformation through the development of people. Vivaldi Partners Group is comprised of Vivaldi Partners, a strategic consultancy; Vivaldi Analytics, a research firm; Vivaldi Fifth Season, a design and digital brand-building agency, and Vivaldi E-Edge, its organizational development company.