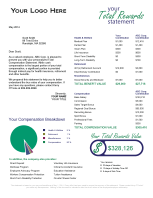 Atlanta, Georgia (PRWEB) October 29, 2015
Dollar Compensation Statements received incredibly positive feedback from American Society for Healthcare Human Resources Administration (ASHHRA) 2015 Conference attendees.
Personnel shortages continues to rank in the top ten concerns listed by hospital CEOs according to a recent survey by the American College of Healthcare Executives. In our informal survey of attendees, most attendees mentioned employee satisfaction with pay and benefits as the number one reason they were considering providing their employees with Total Reward Statements in 2016. Nine out of ten employers we met received feedback on their employee survey indicating dissatisfaction in the area of pay and benefits.
Dollar Compensation Statements helps organizations improve their employees' perceptions by clarifying the hidden value of benefits and time off. The total rewards package employers provide their employees is one of their biggest expenses, yet employees don't recognize the cost of health benefits and other perks as part of their total reward package.
DollarCompensationStatements.com provides a self-service statement generator that allows employers and benefits brokers serving groups from 10 employees to 400 employees to create personalized total reward statements for as low as $1 to $2 per personalized print-ready statement. We have:

No set up fee
No minimum order
No wait
No risk — preview before you pay
Larger employers may choose from our custom designs and our templated layouts. All statements include:

Introduction letter
Your logo
Attention-grabbing charts
For more information about Dollar Compensation Statements visit http://www.dollarcompensationstatements.com or contact us directly at 404.474.7947 or info(at)dollarcompensationstatements(dot)com.
For information about creating employee benefit guides or open enrollment communication materials visit our sister company, BenefitsBang! at http://www.benefitsbang.com