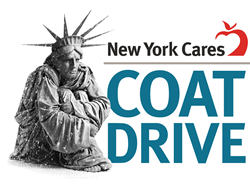 In 2014, the organization distributed a whopping 75,005 coats.
New York, NY (PRWEB) October 28, 2015
Scanio Moving, the New York City based moving and storage company, is joining forces with Halstead Properties, again this year, to make a impact for New York City residents.
Last year, Scanio Moving joined forces with Halstead Properties to support their efforts toward Halstead's coat drive, which worked to provide winter coats for those in need for the winter season. Scanio provided wardrobe boxes and moving services for the coats, which it will again this year. Last year, Halstead ended up collecting the second largest number of coats of any organization, second only to major retailer H&M.
The donations be delivered to New York Cares, which is New York City's largest volunteer management organization. New York Cares holds a coat drive annually, where they work to provide coats to all who may need one as the cold weather sets in. In 2014, the organization distributed a whopping 75,005 coats.
Scanio Moving was founded in 1941, as a family owned and operated New York City moving and storage company. Today, the company serves the greater New York City area and offers services in commercial moving, residential moving, long and short distance moves, international moving, packing and unpacking, storage, and white glove moving and storage.