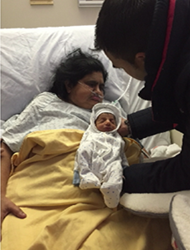 Visitor health insurance should be an essential part of trip planning to USA or Canada
Orlando, FL (PRWEB) October 28, 2015
India Network Foundation, sponsor of award-winning visitor health insurance plans with pre-existing conditions for all age groups, today issued an appeal to help a family in need. Ashish Thakkar invited his parents to his home in Canada to witness the birth of their first grandchild in August 2015. He did not purchased any kind of health insurance plan for his parents before their arrival. A day before the baby was born; his mother suffered a massive stroke and was admitted to a Winnipeg hospital.
Ashish Thakur brought his parents to Canada but did not purchase any kind of medical insurance for his parent's. He counted on their good health and good luck instead of visitors health insurance, like many young professionals in North America. His mother was hit with a massive stroke just one day before the arrival of her first grandchild. The new parents have appealed to community to help them with the resulting medical bills. India Network extends best wishes for speedy recovery of Mrs. Manjula Thakkar and seeks to help the family financially with this appeal.
India Network members may donate to this cause from our India Network Foundation secure server. Please donate generously to help this young family as the bills are piling up and expected to reach more than $200,000. Every day in the hospital is likely to cost on average $2600, and Mrs. Manjula has a long road ahead to recover from the stroke. All donations to the India Network Foundation are eligible for tax-exemption in the US or Canada (Check with your tax advisor).
Dr. KV Rao, President of India Network Foundation said that the very purpose for which India Network Foundation started was to help in these sorts of situations with an affordable health insurance plan for all visitors that would cover pre-existing conditions such as a stroke. However, many young professionals inviting their parents, in-laws, and grandparents do not take insurance needs seriously. It is a false assurance to think that parents, in their seventies or older, are of great health and do not need any medical coverage. Visitor medical insurance should be an essential part of a travel program for all visitors. We highly recommend that every visitor visiting United States or Canada to take advantage of pre-existing coverage plans offered by India network. If premium assistance is required, India Network Foundation will be happy to assist for economically challenged families.
About India Network Foundation
India Network Foundation, established as a US non-profit organization, has been helping the Asian Indian community in North America with programs and grants to academics from India for more than two decades. India Network Foundation sponsors visitor health insurance to students, temporary workers (H1 visa holders) and their families.
About India Network Health Insurance
India Network Services administers visitor health insurance to visiting parents, transient residents, tourists, students, temporary workers and their families. Cashless Visitor health insurance plans are available for all age groups with network-based comprehensive coverage and with pre-existing condition coverage.
For more information visit http://www.kvrao.org.