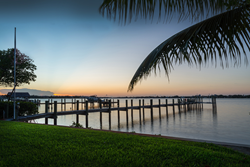 Shangri-La of Jupiter
(PRWEB) November 02, 2015
The elite property, located at 18200 Gardiner Lane in Jupiter, offers stunning postcard views of the Loxahatchee River, is dotted with towering oak, palm and fruit trees, and is the last remaining one-acre parcel of land on a quiet, secluded lane with only six other homes.
"From the first moment I saw this property, I knew it was the perfect location for a brand new 12,000 square-foot masterpiece on what is truly a transcendent plot of land," commented Drew Saporito. "And by applying my proven sales approach and method, while I was pleased with the record price and lightning-fast close, I certainly wasn't surprised. This special property was and remains the Shangri-La of Jupiter!"
The property's delighted sellers quickly took to the web to share their good news story via the popular real estate website Zillow.com: "We are convinced that Drew's knowledge and expertise made it happen so quickly – he is a real estate role model, and we highly recommend him!! Thanks, Drew!! Sorry, we can only give you five stars - you certainly deserve ten 10 stars!!"
The proven sales approach and method that Saporito refers to is one that he has refined and perfected in his more than two decades of experience in the hospitality and real estate industry, and includes:

Always being extremely well prepared, and making all proper arrangements well in advance of each listing.
Handling all aspects and details of the marketing and sales process, and going far beyond the typical real estate transaction.
Drawing upon a network of experienced and proven craftsmen, architects, photographers, creative marketing professionals, and luxury specialists to optimize the sales and marketing process.
Ensuring that each property receives maximum attention and exposure by leveraging an exclusive database of prospective buyers, along with multiple online and offline channels, locally, regionally, nationally and globally.
Maximizing the number of qualified buyers viewing the property in order to achieve the highest possible price in the shortest possible time.
Added Drew Saporito: "My experience has always been that putting in extra effort and working only with the industry's best and brightest is always profitable for my clients, both in the timing of the sale and the final selling price."
About Native Realtor® Drew Saporito
A proud native of Jupiter, Florida, Drew has built an outstanding reputation for marketing distinguished properties by utilizing effective marketing strategies and innovative product differentiation techniques, coupled with industry know-how and up-to-date market monitoring. With his strong affiliations with the Keyes Company and Luxury Portfolio International, Drew brings even more value to his clients, allowing him to expand his reach through powerful local and global connections.
Need help selling your exceptional property in one of the idyllic Northern Palm Beach communities? Enlist Native Realtor® Drew Saporito for the job call 561-309-3571. Click Here for additional information.
See the latest market trends in your Neighborhood. Home Value Report