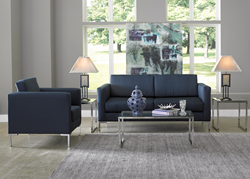 We achieved a look that combines the best of a modern artisan and mid-century modern design, making this a highly attractive option for our clients.
Tallahassee, Florida (PRWEB) October 27, 2015
Southern Furniture Leasing unveiled a new line of rental furniture today. As a way to complement the newer generation of apartment communities in major metropolitan areas, the furniture was designed with an emphasis on clean, modern lines.
"New designs and architectural styles are becoming more prevalent now than any time in the past with the construction of new apartment communities. Renters are looking for buildings that suit their lifestyles and look for communities that offer tons of amenities, a more urban style, greener construction and advanced technological features. It's only natural that they want a furniture package that suits their same tastes," said Patrick Collins, Director of Customer Experience at Southern Furniture Leasing.
"We make it a point to stay on the leading edge of what is happening in the industry, with a keen eye to what's coming next," said Lyle McAlister, President of Southern Furniture Leasing. "We are constantly touring these new communities, reading the publications and consulting with experts to stay on top of trends and the direction of the marketplace," McAlister added.
Southern Furniture Leasing has rolled out a stunning sofa arrangement, called the Millennium. It is offered in two different colors, slate grey and cerulean blue. "We used a fabric that blends the qualities we know our customers are looking for, fade and stain resistance with the highest quality in comfort," said Jordon McAlister, lead of the Southern Furniture in-house design team. "By using chromed square tubing for the frame and legs on the sofa set, we achieved a look that combines the best of a modern artisan and mid-century modern design, making this a highly attractive option for our clients. It's a solid, well-built option that will provide many years of continued use, virtually maintenance free," McAlister explained.
Southern Furniture leasing provides rental furniture to many of the Southeast Unites States' leading Corporate Housing companies, who provide temporary housing to relocating individuals and local companies. "We listen to our customers and continue to innovate and design furniture that we understand fits well with a Corporate Housing program," reported Collins.
Southern Furniture Leasing was established in 1976 as a family owned and operated rental furniture provider serving the state of Florida. Southern Furniture Leasing has grown exponentially in that time and is an industry leader in innovative logistics and technology, now serving both states of Florida and Georgia with over a quarter million square feet of warehouse space to serve clients in every major market and surrounding areas. Using tools such as satellite tracking of delivery trucks, to real-time inspection and high-resolution photography reports during deliveries, Southern Furniture Leasing aids clients in streamlining their set-ups, leading to higher guest satisfaction and less down time between guests.