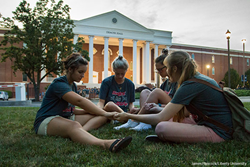 Lynchburg, Va. (PRWEB) October 27, 2015
Newsmax has named Liberty University as the top evangelical Christian college in the country on its Top 100 listing released on Tuesday. Liberty topped Emory University (No. 2), St. Olaf College (No. 3) Biola University (No. 4), Wheaton College (No. 5), Macalester College (No. 6), Regent University (No. 7), Southern Methodist University (No. 8), Baylor University (No. 9), and Texas Christian University (No. 10).
Newsmax chose its Top 100 from approximately 600 Christian-affiliated institutions of higher learning. The ranking was on based on a number of factors, including average financial needs met, class size, student-to-faculty ratio, average ACT scores, and student retention rates.
The site recognized Liberty as "one of the fastest-rising universities in American education," with "massive online enrollment of nearly 100,000 students" augmented by "15,000 residential students at a rapidly expanding campus."
Newsmax noted Liberty's abundant opportunities for student travel, focus on spiritual development, and plethora of recreational opportunities.
Earlier this year, Newsmax recognized Liberty University President Jerry Falwell as No. 8 on its list of the Top 100 Christian Leaders in America. Last year, the publication featured Liberty's unprecedented growth on the cover of the April issue.
About Liberty University
Liberty University, founded in 1971, is the largest private, nonprofit university in the nation, the largest university in Virginia, and the largest Christian university in the world. Located near the Blue Ridge Mountains on more than 7,000 acres in Lynchburg, Va., Liberty offers more than 500 unique programs of study from the associate to the doctoral level. More than 200 programs are offered online. Liberty's mission is to train Champions for Christ with the values, knowledge, and skills essential for impacting tomorrow's world.