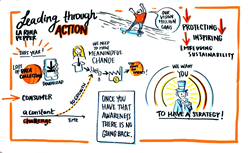 Texas, USA (PRWEB) October 28, 2015
The 2015 Textile Sustainability Conference held in Mumbai, India on October 5-8 had right at 300 attendees from 32 different countries - all coming together to make a difference in the textile industry and ultimately, the world. Highlights from this one-of-a-kind, global event can be found in the 2015 Conference Overview.
Textile Exchange's (TE) mission is to inspire and equip people to accelerate sustainable practices in business in order to minimize the harmful impacts of the global textile industry and maximize its positive effects. While there's no doubt that the industry leaders attending the conference benefit the most from two days' worth of networking and innovative idea sharing, TE believes that providing access to information is necessary to create change and do business better.
For the third year in a row, TE proudly offers a Conference Overview that is chock-full of highlights, learnings, photos, and exciting moments from the event. This 27-page document also includes a summary from the Organic Cotton Round Table and links to additional content.
Download the 2015 Textile Sustainability Conference Overview here.
Save the Date!
The 2016 Textile Sustainability Conference will be held in Hamburg, Germany on October 3-6, 2016.
About Textile Exchange
Textile Exchange (TE), founded in 2002, is a global nonprofit organization that works closely with all sectors of the textile supply chain to find the best ways to minimize and even reverse the negative impacts on water, soil, air, and the human population created by this $1.7 trillion industry. TE accomplishes this by providing the knowledge and tools this industry needs to make significant improvements in three core areas: Materials, Integrity and Supply Chain. A truly global organization, TE is headquartered in the United States with Staff and Ambassadors located in ten countries. To learn more about Textile Exchange, visit: http://www.TextileExchange.org. Follow TE on Twitter @TextileExchange.