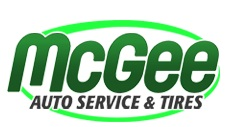 The McGee Auto Service & Tires brand will now have an even stronger presence in Florida with the opening of their 30th store.
Tampa, FL (PRWEB) October 30, 2015
The McGee Auto Service & Tires brand will now have an even stronger presence in Florida with the opening of their 30th store. McGee Auto Service & Tires is moving into a building in Valrico, FL that was formerly occupied by Brandon Tire. The building has been completely gutted and remodeled, and now features ten service bays with an 11th bay for commercial trucks and RV'S. The Valrico location is at 2516 E SR 60, across from Steak & Shake.
The new shop is stocked with state-of-the-art wheel alignment, tire mounting, brake service and wheel balancing equipment from Hunter Engineering, all so that McGee Auto Service & Tires can better serve customers. They also realize that amenities make a real difference in a customer's experience, and have outfitted the new building's waiting area with a private business center that features WiFi, extra outlets and USB connections. For families with kids in tow, there's a spacious play area to help keep them entertained while waiting.
From their beginnings with just two stores branded as "O.K. Tire Stores," McGee Auto Service & Tires has been serving Florida drivers for over 42 years now. Since then, they have grown to include stores in Port Richey, Zephyrhills, Tampa, Brandon, Clearwater, Bradenton, and many other locations. From day one, under the management of founder John McGee, the company has concentrated on their commitment to customer service and excellence in tires and auto repair. Over time, McGee Auto Service & Tires grew to include more locations and became an authorized Goodyear Dealer in 1974. Today, the company proudly serves thousands of customers spanning two generations.
Mcgeetire.com is powered by TCS Technologies. TCS Technologies, a Microsoft Certified Partner, develops and markets both off-the-shelf and custom tire software solutions, web applications, ecommerce platforms, ad support and consulting services to tire companies across the US and Canada. TCS has built a project base which continues to prove itself as a revenue-increasing, business-streamlining asset to any size tire business. TCS Technologies has tools unmatched in the industry, and customization within each of its products to cater to the way tire dealers and retreaders do business. TCS' home office is located outside Nashville, TN in Cookeville, with a second location in Salt Lake City, UT. Visit TCS Technologies' website for more contact information at: http://tcstire.com.