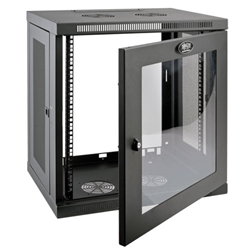 As the maker of the #1 selling line of wall-mount racks, we're thrilled to offer additional solutions
Chicago, IL (PRWEB) October 28, 2015
Tripp Lite, a world-leading manufacturer of power protection and connectivity solutions, has expanded its best-selling line of wall-mount rack enclosures. New models are available in sizes ranging from 5U to 26U and include options like clear acrylic windows, black or white powder coating and NEMA cabinets for harsh environments. Tripp Lite wall-mount racks feature locking, ventilated steel cabinets and come in a variety of depths optimized for patch panels, network switches, UPS systems and servers. A wide range of accessories is available, including rolling casters, shelving and ventilation fans.
All Tripp Lite wall-mount rack enclosures ship fully assembled for immediate deployment and have added features such as extra wall-mounting holes that make it easier to align the unit with wall studs and dual purpose rails that support square-hole and threaded-hole equipment mounting. Tripp Lite wall-mount racks are ideal for securing and organizing rack equipment in a location with limited floor space or in applications where a full-sized enclosure is not required.
Key Features:

Available in sizes ranging from 5U to 26U
Clear acrylic window option allows monitoring of equipment without unlocking the enclosure
Black or white powder coating blends into a variety of environments
NEMA cabinet option protects equipment in harsh environments
Available accessories include rolling casters, shelving and ventilation fans
"As the maker of the #1 selling line of wall-mount racks, we're thrilled to offer additional solutions," said Craig Watkins, Tripp Lite Product Manager. "This, plus our custom rack solutions program, gives IT managers an incredibly wide range of options when looking for a wall-mount rack to fit their application."
For more information on Tripp Lite racks, visit: Wall-Mount Rack Enclosures
About Tripp Lite
Outstanding product reliability and exceptional service have been Tripp Lite trademarks for over 90 years. Tripp Lite´s innovations include the world's first UPS system designed specifically for personal computers and the world's most trusted premium surge suppressor—the Isobar®—with more than 19 million in use. Tripp Lite maintains the highest level of ready-to-ship inventory in the industry with more than 3,000 different products, including UPS systems, rack systems and cooling solutions, PDUs, PowerAlert software for enterprise-level system management and control, surge suppressors, KVM switches, cables and connectivity products, inverters, power strips and notebook accessories. Headquartered in Chicago, Illinois, Tripp Lite maintains a global presence with fully staffed offices worldwide. Additional information, including a list of Tripp Lite's sales offices and authorized reseller partners, can be found by visiting Tripp Lite's website: http://www.tripplite.com.