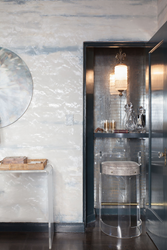 San Francisco, CA (PRWEB) October 28, 2015
Designer Elena Calabrese of Elena Calabrese Design & Decor is honored to announce Salle a Diner, a wine maker's dining parlor that unites a sophisticated, masculine feel with the beauty of the surrounding California landscape, at the 2015 Traditional Home Napa Valley Showhouse. Collaborating with decorative painter Caroline Lizarraga, Elena created unique wall and furnishing treatments to add a feminine shine to the earthy, masculine space in the Tudor Revival home located at 375 Randolph Street.
Crafted in a cool palette of warm browns and glossy blues, the dining parlor has a sumptuous yet earthy feel. The space features luxurious materials and a mix of vintage and contemporary pieces. A McGuire Laura Kirar aged oak and concrete table serves as the room's centerpiece. A set of vintage Milo Baughman dining chairs have been refreshed with new upholstery in a French blue ombre velvet. Textured details such as the pearlescent Maya Romanoff mica ceiling and burnout brown and hide area rug add a touch of layered elegance.
The dining parlor's design is grounded by the shimmering stone plaster walls, a one-of-a-kind treatment the designer developed in collaboration with decorative painter Caroline Lizarraga. Crafted in shades of blue, grey, and brown, the wall treatment imbues the space with a natural luxe feel. A custom brown crocodile-print treatment adorns the bar and glass cabinet backs that mirrors the lucite Charles Hollis Jones barstool upholstered in snakeskin printed linen.
With its textured details and natural inspirations, Salle a Diner is a sophisticated dining room with a fresh twist. For more information and print or web ready images, please visit http://www.elenacalabrese-2015napashowhouse.com/
The 2015 Traditional Home Napa Valley Showhouse Randolph Street Revival is located at 367 Randolph Street and will be open from October 24 through November 15, 2015. The house will be open from 10:30am until 5:00pm, seven days a week. Tickets cost $30 and reservations for home tours must be made in advance. Ticket proceeds will benefit the Napa Valley Film Festival. For more information on the Showhouse or ticketing, please visit http://www.traditionalhome.com/napashowhouse/.
About Elena Calabrese
A full-service interior design firm based in the San Francisco Bay Area, Elena Calabrese Design & Decor specializes in designing modern interiors that reflect a unique California point of view. At her eponymous firm, Elena aims to craft elevated interiors that are a honest reflection of each client's distinct personality. The designer builds dynamic, comfortable residences that highlight texture, modern lines, earthy elements, and luxury finishes. The resulting interiors are chic, sophisticated spaces that showcase unexpected juxtapositions of materials and bespoke details.
With a background in fashion and fine arts, Elena Calabrese brings an eclectic, artistic eye to each of her projects. After a decade in the fashion industry working for DKNY in New York and designing accessories for major companies throughout the Bay Area, Elena made the inevitable switch to interior design in 2007. The designer holds a BFA in metal arts from the California College of the Arts and studied Interior Design at University of California at Berkeley.