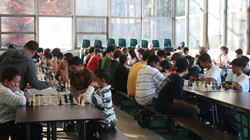 White Plains, NY (PRWEB) October 28, 2015
Since 1990, the National Scholastic Chess Foundation has organized an annual 'Grand Prix' chess tournament series. This year will be no exception, as the foundation has officially announced their 2015-16 chess competitions for children. The 20 scholastic chess tournaments are open to all students (K-12). All events are United States Chess Federation (USCF) rated and a current USCF membership is required.
The first tournament will be held on Saturday, November 7th at Columbus Elementary School in New Rochelle, NY, followed by two events in Greenwich, CT on November 15th at Greenwich Academy and November 22nd at Greenwich Country Day School. All events will take place from 9 am to 3 pm.
Any child who understands the concept of checkmate is ready to play a tournament. With a number of divisions so children compete against other players of similar ability, these chess tournaments are ideal for children who are attracted to the competitive aspect of chess and for parents who want to spur their children to higher levels of intellectual achievement.
"Competitive chess for children is a chance to put learning into action. Think of a chess tournament along the same lines as a recital for a music student," explains NSCF Executive Director Sunil Weeramantry. "In addition to the skills taught on the chessboard, children learn life skills from having to perform in a public setting. They learn how to deal with losing and how to win gracefully."
As one of the leading chess educators in the nation, Weeramantry has been a tournament chess player since his own childhood in Sri Lanka and Switzerland. The NSCF's founder and a FIDE Master, Weeramantry is a nationally-acclaimed instructor with over 40 years' experience teaching and developing award-winning chess programs for children throughout the United States.
Many studies support the value of competitive chess tournaments for students. Researchers L.E. Allen & D.B. Main note that, "competition fosters interest, promotes mental alertness, challenges all students, and elicits the highest levels of achievement. A learning environment organized around games has a positive effect on students' attitudes toward learning. This affective dimension acts as a facilitator of cognitive achievement."
While parents may be focused on the intellectual development, their children will be focused on the fun. With repeated participation, children will see their rating improve and make new friends who share their love of one of the world's oldest games.
Registration for each tournament is $40 in advance or $50 on the day of the event. Group rates are also available with a $5 savings per child. To learn more about the NSCF Grand Prix chess series, individuals are encouraged to visit: http://nscfchess.org/index.php/tournaments/2015-16-tournaments
About the National Scholastic Chess Foundation:
Founded in 1990 The National Scholastic Chess Foundation (NSCF) is a 501(c)3 non-profit educational organization that provides the benefits of a chess education to students of all ages. The primary focus of the NSCF's programs is to develop critical thinkers. For over 25 years, the NSCF has worked with diverse populations in private and public schools, with children in gifted programs as well as those with special needs. The NSCF currently conducts classes in over 70 schools in Westchester County, NY and Greenwich, CT.
For media inquiries regarding The National Scholastic Chess Foundation (NSCF), contact Robert McLellan, Director, Communications & Development at (818) 469-2063 or via email at robert(AT)nscfchess(DOT)org. To learn more about the foundation, please visit: http://www.nscfchess.org.