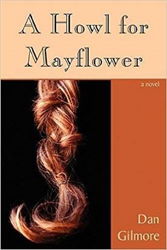 "Gilmore demonstrates a great gift for developing endearing characters, both incisive and multifaceted plot lines, and a story that alternates between hilarity and insanity." – Armchair Interviews
(PRWEB) October 29, 2015
Award-winning Tucson author Dan Gilmore pays homage to his hometown in the highly acclaimed novel "A Howl for Mayflower."
Aging widower Tobias Seltzer of Tucson prefers to spend his time with dead authors (reading their books) than with live but flawed humans. Then one night, he's cornered in the basement laundry by bewitching Mayflower Bryant, who persuades him to dance with her in his skivvies, and his life is changed forever. Seemingly against his will, Tobias is drawn into the lives of his other misfit neighbors. He meets a grieving widower, a pregnant homeless teenager, a one-handed juggler, a Vietnam vet left brain-damaged by an unsuccessful suicide attempt, and a woman teetering on the edge of Alzheimer's.
These eccentric characters show Tobias that life's problems can't all be solved by reading books. Sometimes, the only solution is living life to the fullest. He also learns that one person can make a difference in the lives of others, while at the same time, his own life is enriched. This life-affirming novel takes a darkly humorous, but also a painfully honest look at one man's late-life journey toward love and self-discovery.
Watch the video at: https://youtu.be/SquqY0mBcgE
Gilmore's other books include "Just Before Sleep: Haibun Stories" (2015); "Panning for Gold: New & Selected Poems" (2014); "Love Takes a Bow: New and Collected Poems" (2010); and "Season Tickets" (2003).
Look for Gilmore's work "The Happiest White Black Man in the World" that was nominated for a Pushcart Prize to be featured in October 2015 in the prestigious "Best Small Fiction Anthology." This work was chosen by novelist Robert Owen Butler for the Queen's Ferry Press anthology highlighting the finest in short hybrid fiction. For further information, visit http://queensferrypress.com/blog/the-best-small-fictions-of-2015-edited-by-tara-l-masih-and-robert-olen-butler/
"As I turned the final page, I mourned having to say goodbye to these ordinary people full of heart and soul, passion and intelligence, folks who eke out a life in a broken-down apartment building in downtown Tucson, Arizona." – Sheryl Holland, online reviewer
"Gilmore demonstrates a great gift for developing endearing characters, both incisive and multifaceted plot lines, and a story that alternates between hilarity and insanity." – Armchair Interviews
About Author Dan Gilmore: My most influential teacher was Steve Kowit, author of In the Palm of Your Hand. In one of his reviews, he called my work "solid gold" and "deliciously readable." My credits include the Raymond Carver Fiction Contest, the Martindale Fiction Award, and multiple Sandscript awards for my short stories. My poems, short stories, and short fictions have appeared in Atlanta Review, San Diego Reader, Aethlon, Blue Collar Review, The Carolina Review, Sandscript, Loft and Range, KYSO-Flash, and Serving House Journal. In my life I have been: a functionally illiterate high school graduate, a fry cook, a draft dodger, a soldier, an actor, a minister in a Reno wedding chapel, a Ph.D. psychologist, a single parent of two children, a college professor, the designer and dean of Thomas Jefferson College in Michigan, and a consultant to businesses. I live in Tucson, Arizona, where I divide my time between writing, playing jazz bass, consulting with nonprofits, teaching creative writing classes to adults at University of Arizona's OLLI program, and loving my life partner, JoAn, my children and grandchildren, and my cat.
The compelling book A HOWL FOR MAYFLOWER (ISBN: 978-0-97253-038-5) is available for $12.95 (Kindle is also available for $4.99) and can be ordered through the publisher Imago Press website:
https://openlibrary.org/publishers/Imago_Press or at Amazon.com or Barnesandnoble.com.