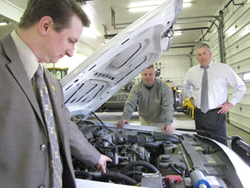 Ogdensburg, New Jesery (PRWEB) October 30, 2015
Extreme Energy Solutions has launched "Operation Awareness" an extensive awareness and marketing campaign for the Smart Emissions Reducer (SER) amid the current vehicle emissions challenges. Over the last several years, Extreme Energy Solutions has been quietly building value and awareness in the market for the Smart Emissions Reducer, a simple engine retro-fit technology that has been independently proven to drastically reduce vehicle emissions while increasing fuel economy on both diesel and gasoline engines. And now, with the latest vehicle emissions controversy and with more demand for clean vehicles than ever, Extreme is mobilizing all available resources to launch this new mass awareness and marketing campaign.
Extreme Energy Solutions management agrees that if more auto manufacturers were aware of the available solutions, huge amounts of pollution could be avoided and car companies could meet their environmental benchmarks. The new marketing campaign is expected to draw the interest of several industry leaders and professionals who are seeking real solutions to the emissions compliance issue.
Extreme Energy Solutions' flagship product, the Smart Emissions Reducer, is a simple retrofit technology that can easily be installed on almost any internal combustion engine. Ranging from around $500 per installation for small cars up to around $1,500 for large, over-the-road diesels, the Smart Emissions Reducer is a viable option for companies that are struggling to meet the ever tightening fuel economy and emissions guidelines. This emissions reduction technology has already been field and lab tested by dozens of respectable commercial vehicle fleets, engine manufacturers, municipalities and laboratories such as Roush Performance and The California Air Resources Board.
"We are happy to initiate an extensive awareness campaign aimed at watch dog organizations, regulators and embattled auto manufacturers that are struggling to keep up with the ever-restricting emissions and fuel economy guidelines." noted Jeffrey Smith, Extreme Energy Solutions' Communications Director.
Several methods of marketing and awareness are being instituted by Extreme Energy Solutions for Operation Awareness. The company is utilizing direct mail, social media, video marketing, print advertising, sponsorships and extensive follow up with personal contacts, connections and established business relationships. You can find a full list of current awareness projects on the Extreme Energy Solutions website.
With vehicle emissions issues constantly making headlines, the Extreme Energy Solutions staff is confident that the timing of this awareness campaign is perfect. "We believe that a partnership with engine and vehicle manufactures is warranted at this time," shared Samuel K. Burlum, CEO and President of Extreme Energy Solutions, Inc., "With the looming pressure to solve problems on the emissions reduction compliance front, we feel vehicle manufactures should be exploring every option and resource available to them, including new technology and advancements from smaller companies such as Extreme Energy Solutions."
The awareness campaign is also set to shed light on some of the real issues and root causes of the situation so that a deeper understanding of how to solve the crisis can be determined.
"We feel that the issue is industry wide. Emissions and vehicle inspection compliance regulations have become so complex, that they are counterproductive and contradictory to each other, which has forced the auto industry to resort to other measures in meeting regulatory benchmarks. The problem is both technical and administrative." noted Samuel K. Burlum.
Visit the Extreme Energy Solutions website and Facebook page for special campaign announcements and a list of current Operation Awareness projects.