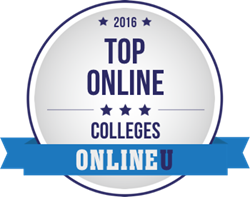 This year's formula measures the strength of a student body, as well as desirability and competitiveness
Kirkland, WA (PRWEB) October 28, 2015
SR Education Group, an education research publisher based in Kirkland, Washington, just released the 2016 Top Online Colleges on OnlineU.org. The ranking features 25 of the best colleges in the nation that offer fully online degrees. While well-known, prestigious institutions like Stanford, Columbia, and Duke maintained their top three status from last year, new schools also earned high placements on the list due to the new ranking algorithm, such as the University of Minnesota at #7 and the University of Michigan at Ann Arbor at #10.
The 2016 Top Online Colleges ranking was developed using a proprietary formula that takes into account acceptance rates, enrollment rates, and entrance exam scores. Last year, schools were ranked only according to acceptance rates, but this year's formula measures the strength of a student body, as well as desirability and competitiveness. Only schools that are regionally accredited, non-profit, and offer a combination of at least 5 online bachelor's or master's programs were considered for this ranking. The top three schools remain the same for the second year in a row, with Stanford earning the #1 spot, followed by Columbia and Duke. This year's ranking methodology also resulted in the notable inclusion of new schools, like the University of Minnesota which ranks 7th and the University of Michigan at Ann Arbor, whose exceptional SAT average of 1,450 helped earn the school top ten standing.
"For the 2016 Top Online Colleges ranking, we developed a new formula to measure factors that reflect a school's selectivity and the strength of its student body," said Sung Rhee, CEO of SR Education Group. "We are continually putting thought and research into how to better serve students in their search for a quality school. As online education grows, college rankings need to evolve in order to accurately reflect the schools that are truly the best in the nation. Using this new ranking algorithm that considers telling factors like entrance exam scores, we unearthed high-quality, desirable schools that are worth considering."
SR Education Group has been researching and publishing important information about online colleges since 2004. OnlineU's 2016 Top Online Colleges ranking employs a fresh, never before used methodology intended to measure selectivity and desirability, and the results showcase excellent universities offering online degrees. Visit OnlineU.org to view all 25 of the 2016 Top Online Colleges and their respective degree offerings.
About SR Education Group
Headquartered in Kirkland, WA, SR Education Group was founded in 2004 by CEO Sung Rhee. The company's mission is to create authoritative online resources for students seeking an affordable, accessible, and quality higher education program. SR Education Group is passionate about making quality education attainable for everyone and believes that objective information about education, careers, and educational financing should be free and easily accessible. For more information, please visit http://www.sreducationgroup.org.