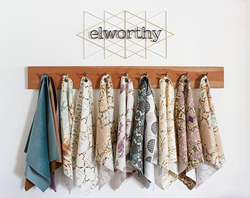 San Francisco, CA (PRWEB) October 28, 2015
Artist and tastemaker Kate Miller is honored to announce the launch of her eco-conscious textile company, elworthy studio. Inspired by a rusted drainpipe outside of her apartment, Kate's debut collection of wallpapers and fabrics, aptly named the Decay Collection, features fabrics that highlight patterns created with the impressions of rusted objects. The result is an eclectic collection of eight patterned fabrics and wallpapers, five natural linens, and three antiqued velvets.
Inspired by the unexpected beauty of urban decay, elworthy studio's Decay Collection highlights rich texture and organic forms in soft, unexpected color palettes. Working with textiles that have been hand-dyed with the impressions of rusted objects such as a vintage doorknob and decorative ironwork, Kate manipulates the prints on the computer to further develop color and pattern.
As an individual deeply committed to leading an environmentally conscious lifestyle, it was essential to Kate that her company's ethos reflect her personal ethics. elworthy studio's patterned wallpapers are digitally printed in the USA using non-toxic water-based inks and sustainably-sourced, FSC certified paper. elworthy studio's patterned textiles are printed on-demand in the USA with low VOC, water-based pigment ink for minimal environmental impact. For more information on elworthy's suppliers and commitment to green production methods, please visit http://www.elworthystudio.com/environment/.
"I believe that good design is luxurious and fashionable, as well as environmentally and socially conscious. I am grateful to my early supporters and my innovative suppliers for their role in creating a great product that is all of the above. elworthy studio has big plans for the future as we continue to research and experiment with ways to push design and sustainability even further," textile designer Kate Miller says about her collection.
elworthy studio's debut collection is available both retail and to the trade at Coupar Consulting's Tête-à-Tête Lounge, located in the San Francisco Design Center at 101 Henry Adams Street, Suite 416, San Francisco, CA 94103 and to the trade at Supply Showroom at 2204 Lake Austin Boulevard, Austin, Texas 78703. elworthy studio's textiles are also available for purchase online at http://www.elworthystudio.com/. Fabrics are priced from $55 to $160 per yard, and wallpapers range from $65 to $135 per yard.
About Kate Miller
An artist and textile designer, Kate Miller draws inspiration from the contrast of organic forms found in the natural world and the raw energy of urban life. Formerly a fashion stylist and merchandiser, Kate left the industry inspired to find an artistic outlet to express her creativity. She enrolled in textile design classes at Academy of Art University and was fascinated by the history of the craft and its endless possibilities. Established Spring 2015 and named after the designer's great-grandmother, elworthy studio is an environmentally-conscious fabric and wallpaper company that highlights the beauty of urban decay. Kate's designs emphasize her passion for working with her hands, and feature rich texture and organic forms in soft, unexpected color palettes. For more information, please visit http://www.elworthystudio.com/