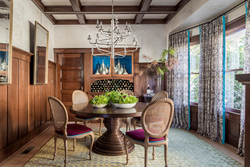 San Francisco, CA (PRWEB) October 28, 2015
Designer Julie Rootes of Julie Rootes Interiors is delighted to debut an eclectic dining room at the 2015 Traditional Home Napa Valley Showhouse. Located in the 367 Randolph Street Napa Bungalow, the warm dining room features painted fabric and unique decorative wall treatments in addition to a mix of vintage, antique, and modern elements.
Drawing inspiration from the energy of Amanda Stone Talley's "Fracture" drapery fabric, the dining room is conceived in rich greens, burgundies, crisp ivories and pops of electric blue. The painted fabric's pattern brings the movement from the outside world in, as if the viewer is looking through fractured window panes. Two Trumeau mirrors by Michael S. Smith opposite the drapery enhances the interplay of reflections. The dining area features a Helene Aumont disk table paired with vintage cane back chairs that have been reupholstered in burgundy soft wool and electric blue Houles trim. A silk Neisha Crosland rug by The Rug Company grounds the dining room with a loop pile wool motif that resembles abacus beads. The space is crowned by a brushed nickel Alkahest chandelier.
To honor the integrity of the dark wood wall paneling, Julie collaborated with decorative painter Elan Evans to develop a pearlescent tone for the walls and ceiling. Elan's vintage-inspired cut paper wallpaper gives the space a subtle texture. A traditional cabinet showcases Sara Paloma designed pottery that pops against a lacquered turquoise back and the bar features wine bottles adorned with whimsical doorknob accessories.
With its unexpected details and artistic inspirations, the lively dining room is perfect for intimate gatherings enjoyed over a glass of Napa Valley wine. For more information and print or web ready images, please visit http://www.julierootes-2015napashowhouse.com.
The 2015 Traditional Home Napa Valley Showhouse Randolph Street Revival is located at 367 Randolph Street and will be open from October 24 through November 15, 2015. The house will be open from 10:30am until 5:00pm, seven days a week. Tickets cost $30 and reservations for home tours must be made in advance. Ticket proceeds will benefit the Napa Valley Film Festival. For more information on the Showhouse or ticketing, please visit http://www.traditionalhome.com/napashowhouse/.