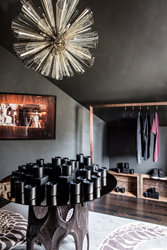 San Francisco, CA (PRWEB) October 28, 2015
Designer Lizette Marie Bruckstein of Lizette Marie Interior Design is delighted to present the Master Dressing Room, an intimate space for the sartorially minded man of the house, at the 2015 Napa Valley Showhouse. Located on the top floor of the Tudor Revival style home at 375 Randolph Street, the Dressing Room features a sleek, black palette and textured details for a sumptuous, masculine feel.
The Master Dressing Room serves as both a space to select daily wardrobe choices and a comfortable place for reflection. A Viz Art Glass Flute chandelier, a dark bronze Arteriors table, and a graphic serpent-inspired Kelly Wearstler for the Rug Company carpet give the space a sense of glamour. Industrial accents, such as the copper clothing racks and vintage wooden shoe boxes, provide chic storage solutions.
Lizette Marie's signature Gilded Decay candles fill the room with a rich, layered scent that transforms the space into a full sensory experience. Fascination with the dichotomy of everyday life gave way to the concept of a candle line composed of duos. The Gilded Decay premiere collection includes Homme, with notes of suede, sandalwood, and hints of spice and amber, and Femme, an unexpected twist on fig accord. Individually each candle is interesting and complex, and when burned together, Homme and Femme combine to produce the Deconstructed Seduction master scent.
With its moody color palette, luxurious accessories, and signature scent, Lizette Marie's Master Dressing Room is sure to satisfy all of the senses. For more information and for print or web ready images, please visit http://www.lminteriordesign-2015napashowhouse.com/.
The 2015 Traditional Home Napa Valley Showhouse Randolph Street Revival is located at 367 Randolph Street and will be open from October 24 through November 15, 2015. The house will be open from 10:30am until 5:00pm, seven days a week. Tickets cost $30 and reservations for home tours must be made in advance. Ticket proceeds will benefit the Napa Valley Film Festival. For more information on the Showhouse or ticketing, please visit http://www.traditionalhome.com/napashowhouse/.
About Lizette Marie Bruckstein
Young and passionate, designer Lizette Bruckstein burst into the San Francisco interior design scene, forgoing the traditional route of apprenticing in a design firm to establish her own high-end firm, Lizette Marie Interior Design, right out of design school. In the years since, Lizette has evolved into a well-respected designer with loyal list of clients that span San Francisco to the peninsula. Lizette's philosophy is simple, to create custom spaces for her clients that are a reflection of the client's best self.
From provocative to playful, colorful to serenely neutral, Lizette's designs are expertly crafted as she plays up the use of scale, texture & pattern. A big proponent of custom design, from floor coverings to case goods, Lizette strives to give each space she creates its own signature focal point. The designer has recently expanded her offerings to include a luxury lifestyle brand and has a glamorous lighting line in the works. Lizette premiered her first custom chandelier in her room at the 2015 San Francisco Decorator Showcase.