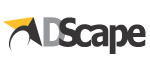 "[T]he application does a beautiful job of walking the user through a step by step security risk analysis with plenty of easy to use tutorials and FAQs." Legal Levity app review
Mt. Olive, NJ (PRWEB) October 29, 2015
DScape Interactive, which is a New Jersey-based business app and digital media development company, produced the first release of the "Security Risk Assessment" app in 2013 for the U. S. Department of Health and Human Services. A March 2015 review of the app in "Legal Levity," an on-line reporting site dedicated to law, business and technology, praised the program: "[T]he application does a beautiful job of walking the user through a step by step security risk analysis with plenty of easy to use tutorials and FAQs."
The app presents medical office managers with a series of survey-style questions about their existing practice around health records, physical security and organizational procedures, then offers an aggregated report along with risk and impact assessment to help move toward greater compliance with federal HIPAA requirements. The modified Windows app will enable users to save different versions of the survey, thereby making it more useful to multi-office practices. Other modifications will include improved reporting functionality and compatibility with updated versions of Windows.
According to DScape Interactive's co-owner, Dave McNulty, the SRA tool is part of a series of applications that the company has developed for HHS. "We also created a medical office waiting room app for iPads that educates patients on the definition and details of granting permission to share electronic health information as part of an "e-consent" pilot project.
For additional information, contact Dave McNulty, Co-Owner, DScape Interactive, at 973-691-2600 office or dmcnulty(at)d-scape(dot)com.
About DScape Interactive
In addition to federal government work, DScape provides consulting, design and development services to Fortune 1000 companies for custom e-learning, marketing and business support applications for desktop and mobile devices. http://www.d-scape.com
About Morgan Borszcz Consulting
Morgan Borszcz Consulting is a leading information technology and management consulting firm that provides enterprise solution management and integration services to the federal government. MBC has offices in Arlington, VA, Dayton, OH and Oklahoma City, OK. http://www.mbc360.com/