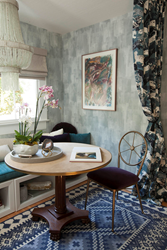 San Francisco, CA (PRWEB) October 28, 2015
Interior Designer Courtney Lake of Monogram Decor is honored to debut a sophisticated shared guest bedroom and office space at the 2015 Traditional Home Napa Valley Showhouse. Located in 367 Randolph Street Napa Bungalow property, the dynamic space serves as both a place for daily work and relaxation and a comfortable bedroom for out-of-town guests eager to get a taste of Wine Country.
Drawing inspiration from the magic of warm Napa Valley nights, Courtney reimagined the intoxicating natural landscape through an exotic, Out of Africa lens. The result is a contemporary space with modern, rustic touches that welcomes day and night use. Conceived in a palette of warm shades of blue, the guest room's design is grounded in the playful Robert Allen Rajita Tiger print drapery. When drawn, the curtains offer house guests a private sleeping area.
Collaborating with furniture maker Luke Austin of Oak & Wood, Courtney designed custom modular built-ins upholstered in rich Robert Allen fabric that function as banquette seating or a guest bed depending on the homeowner's needs. A Shear & Windows game table, Pottery Barn game chairs, and a vintage lounge chair offer ample space for working, reading, or quiet reflection. The walls are adorned with vibrant artwork by Serena Bocchino, Carol Massa, and John Wood provided by ArtHaus Gallery. An HD Buttercup chandelier and Meredith Heron rug imbue the space with a refined yet comfortable feel.
With its eclectic inspiration and rustic details, Courtney's versatile guest bedroom and office space offers a soothing oasis to guests and residents alike. For more information and print or web ready images, please visit http://www.monogramdecor-2015napashowhouse.com.
The 2015 Traditional Home Napa Valley Showhouse Randolph Street Revival is located at 367 Randolph Street and will be open from October 24 through November 15, 2015. The house will be open from 10:30am until 5:00pm, seven days a week. Tickets cost $30 and reservations for home tours must be made in advance. Ticket proceeds will benefit the Napa Valley Film Festival. For more information on the Showhouse or ticketing, please visit http://www.traditionalhome.com/napashowhouse/.
About Courtney Lake
Known by many as lively, stylish, and inspired, Courtney Lake is proud to be one of the premier interior designers in the San Francisco Bay Area. Specializing in creating functional and beautiful spaces in the residential market, Courtney also does his share of home staging and photo styling. He is an expert at flawlessly meeting his clients' needs while designing superb spaces with timeless style mixed with a healthy dose of humor.
As a graduate of Stanford University with three degrees to his name, Courtney got his start in the high-tech world. He quickly left this industry to pursue his true passion, and has since launched a very successful design business, Monogram Decor. He is also the personable, respected voice behind the popular blog Courtney Out Loud.