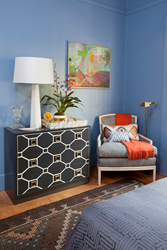 San Francisco, CA (PRWEB) October 28, 2015
Designer David Hansen of David Hansen Design is honored to present Rhapsody in Blue, a tranquil master bedroom at the 2015 Traditional Home Napa Valley Showcase. Located in the 367 Randolph Street Napa Bungalow, the master bedroom that serves as a backdrop for personal art, books, and worldly accessories.
As suggested by its name, the bedroom is a modern space envisioned in deep blue with classic elements that pay homage to the Craftsman home's traditional architecture. Inspired by the homeowner's love of travel and art, the designer selected an eclectic array of original artwork and home accessories to imbue the space with personal history. The bedroom features vintage pieces such as a Dorothy Draper style lacquered chest and a pair of T.H. Robsjohn-Gibbings lacquered nightstands from Black & Gold. Original works from ArtHaus and private collections adorn the walls, and the room is crowned with a polished nickel ceiling fixture from Circa Lighting. An antique rug from Tony Kitz Gallery further endows the space with a sense of history. The Frette bedding is inspired by Milan's tram lines and reinforces the sense of travel and place. The space provides the homeowners with a soothing place in which to reflect upon their travels.
For more information on David's design, please visit http://www.davidhansendesign-2015napashowhouse.com.
The 2015 Traditional Home Napa Valley Showhouse Randolph Street Revival is located at 367 Randolph Street and will be open from October 24 through November 15, 2015. The house will be open from 10:30am until 5:00pm, seven days a week. Tickets cost $30 and reservations for home tours must be made in advance. Ticket proceeds will benefit the Napa Valley Film Festival. For more information on the Showhouse or ticketing, please visit http://www.traditionalhome.com/napashowhouse/.
About David Hansen
In 2014, David established his namesake firm, David Hansen Design. Hallmarks of DHD include an intellectual and urbane approach to design, combined with an affinity for strong color, modern furnishings, and custom finishes. DHD spaces are imbued with a collected quality, making them feel well edited and well traveled, exuberant and eclectic. Design components include a mix of custom investment pieces and refined artistic details that result in bold, enduring spaces.
David has gained valuable knowledge of the remodeling and interior design process through the completion of hundreds of projects in the San Francisco Bay Area. Collaborating with some of the Bay Area's finest craftsmen and artisans has given him the opportunity to establish the superb team behind David Hansen Design.