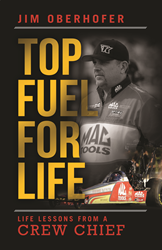 "I hope people learn from my mistakes and don't wait for tragedy to strike to appreciate life."
Dallas, Texas (PRWEB) October 28, 2015
First-time author and Kalitta Motorsports Crew Chief Jim Oberhofer launched his book "Top Fuel for Life: Life Lessons From A Crew Chief" recently at the Texas Motorplex in Ennis. Surrounded by hundreds of fans, top officials from the National Hot Rod Association (NHRA), crew chiefs and drivers from NHRA teams, Oberhofer shared stories from the book at a launch party held in the Kalitta hospitality tent; the inventory of a couple hundred books quickly sold out.
Available on Amazon for $19.95, the 262-page memoir aims to help readers find happiness. The book is written in a brash, humorous man's man style and includes Oberhofer's personal struggles, the love he rediscovered, and the epiphany that guided him to a positive point in his life. "I hope people learn from my mistakes and don't wait for tragedy to strike to appreciate life," says Oberhofer.
In the book, he describes lessons he learned from his wife Tammy's diagnosis of stage 4 metastatic lung cancer and her unconditional love. Colorful stories include drag racing celebrities like Connie Kalitta, Scott Kalitta, Jesse James, Cowboy Bob, Alexis DeJoria, Dick LaHaie and people from his Kalitta "family." Jim O emphasizes that "happiness doesn't come from winning a trophy but from other things" such as loving one's family, being honest with people and recognizing coworkers.
"I had a race fan come up to me who had read the book, and he told me that his father passed away from cancer a few years back," Jim O says. "He told me he had been married for over 36 years, and that after reading my book, he vowed to better appreciate his wife and work at strengthening his marriage. The man was crying and it really hit me that maybe this book can do some real good." Books will be available for sale at the Kalitta Motorsports kiosk at NHRA drag races Oct. 20-Nov. 1 at the Las Vegas Motor Speedway and Nov. 12-15 at the Auto Club Raceway at Pomona in Calif.
About Jim Oberhofer, Crew Chief for Kalitta Motorsports:
Oberhofer, a resident of Ypsilanti, Mich., has been with Kalitta Motorsports, one of the most successful professional drag racing teams in NHRA history, for almost three decades. He serves as crew chief for Doug Kalitta's Mac Tools Top Fuel Dragster and Vice President of Operations for the Kalitta Motorsports four-car team.
###