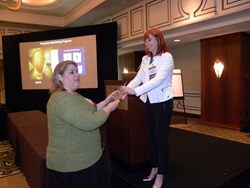 This latest change recognizes that great marketing that touches patients and changes minds now comes in more forms than ever before, including low-budget campaigns that leverage new technology for maximum impact."
Fairfax, VA (PRWEB) October 30, 2015
The Radiology Business Management Association Quest Awards are among the most prestigious in radiology practice marketing. As the program enters its 11th year, two new categories will recognize changes in the radiology marketing landscape and base awards on budget limitations as well as the use of new technology.
"Marketing has changed a lot since the first Quest awards were given in 2004," explained Daphne Gawronski, director of communications and development for the RBMA. "Over the years, we have introduced changes to keep the awards current and relevant in the fast-paced and constantly evolving radiology practice marketing field. This latest change recognizes that great marketing that touches patients and changes minds now comes in more forms than ever before, including low-budget campaigns that leverage new technology for maximum impact."
The 11th annual Quest Awards Ceremony will be held March 8, 2016, at RBMA's Building Better Radiology Marketing Programs in Las Vegas, Nevada. The awards will be separated by budgets under $5,000 and budgets over $5,000. The following categories are available for each budget factor:

Cause-related Marketing
Digital Marketing
Patient Marketing
Physician Marketing
One award will be granted for each budget and category. In addition, the People's Choice Award will be determined during the Building Better Radiology Marketing Programs by attendee votes, bringing the total number of available awards to nine.
Entries for the 11th Annual Quest Awards are currently being accepted. Visit rbma.org/How_to_Enter/ for instruction on how to enter. Judging takes place on March 6, 2015, and is conducted by a volunteer panel of radiology and marketing professionals.
About RBMA
The Radiology Business Management Association (RBMA) is a national not-for-profit association providing members with applied business information and intelligence applicable in any radiology setting. The RBMA has approximately 2,300 members involved in various management capacities in private practices, academic radiology groups, imaging centers and hospitals. The RBMA continues to be recognized as the leader for radiology-specific educational programs, products and services, publications and data.