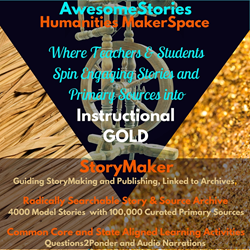 "Once teachers got their hands on the pilot version of our StoryMaker app, "MakerSpace for the Humanities" was born."
Grand Rapids, MI (PRWEB) November 11, 2015
Today AwesomeStories launches MakerSpace for the Humanities, the first integrated solution for teacher and student work in humanities research, thinking, writing and citing. AwesomeStories Free Archive and AwesomeStories premium applications together deliver this opportunity to work and learn with creativity and rigor.
Polk Technology Specialist, Kay Teehan, exclaims: "I can't believe how fast and easy it is to use AwesomeStoryMaker! I research the archives right from the app, write my story, enter links, note sources, and presto—I've created a multimedia story complete with beautiful images, videos and reliable citations ready for publication for learners and teachers around the world as well as my own students."
At AwesomeStories, historical figures are real people; places are online field trips; facts and figures are compelling stories; points of view are knowable and debatable; primary sources are findable and usable; original documents are alive with scratch-outs and edits; videos reveal meaningful context; images enhance learning; and online reading and research is guided and fun. This amazing reliable, engaging teaching and learning resource is free for all as it has been since 1999.
How does this happen? In the AwesomeStories Archive, students encounter history, science, literature, the arts—and all other subjects—through topical story guides with embedded, curated multimedia primary sources.
Now, with the advent of the new premium "StoryMaker" app – students and teachers build and publish their own evidence-based multimedia content. Members access the Archive stories and primary sources and the database of 100 world-renowned archives, do deep reading, critically think through their ideas, write stories, papers, cite sources properly and publish. These skills meet goals required by today's careers, common core standards and annual assessments.
"Once teachers got their hands on the pilot version of our AwesomeStoryMaker app, "MakerSpace for the Humanities" was born. It became clear that teachers can produce not only stories to launch lessons and units, but digital curriculum. Students can create not only stories and articles but also term papers and group collaborative projects." noted Deborah Bond-Upson, Chief Education Officer
Given the Internet information cacophony, political, scientific, cultural history stories circulate unexamined. Today's learners have the benefit of easy access to mass quantities of questionable information online. Students need guidance in how to find reliable information, how to identify primary sources, how to frame research questions, how to put together a cohesive analysis of a question, and how to build a story from a well-researched background, how to write it clearly, and how to cite information with respect and specificity. MakerSpace for the Humanities provides that guidance, support, resources and tools, drawing on the AwesomeStories Archive, on the StoryMaker app, and linking to over 100 world-renowned archives.
MakerSpace for the Humanities takes research and critical thinking to the next level. Teachers and students can use the archive and the apps to scaffold research, writing and citing. Students can complete papers or write stories. Teachers can write a story to launch a lesson, mount a unit or an entire course in the multimedia, evidence-based story form. Membership costs only $39 a year for a teacher and up to 30 students or $14 for an individual teacher, student or lifelong learner.
AwesomeStories welcomes collaborations with districts, schools, teachers, homeschool parents and students of all ages. Sign Up online or email membership(at)awesomestories(dot)org.
About AwesomeStories: A trusted partner to teachers, media specialists and students since 1999, AwesomeStories delivers its Free Archive of 4,000+ fascinating stories linked to 100,000+ primary sources spanning subjects and levels to learners around the world. Led by trial attorney Carole Bos and education innovator Deborah Bond-Upson, AwesomeStories attracts 6.5 million+ pageviews a year with 35,000+ educator members. AwesomeStories offers premium memberships to its premium applications, StoryMaker, AssignmentMaker and the MakerSpace for the Humanities. Awesome Stories has won accolades over the years, most recently being named a 2015 CODIE Finalist as a Social Studies Solution.