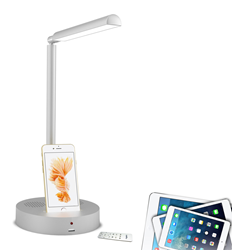 (PRWEB) October 28, 2015
tLight Ltd. today launches its tLight S3i LED desk light with powerful true-color light output and charging dock for recharging all iPhone and iPods with Lightning connector. With the additional USB port the tLight can also recharge other tablets and most smartphones.
A major addition to the tLight's functionality is its 802.11b/n and HT 802.11n Wi-Fi support. By simply connecting a DSL or cable modem to the tLight S3i users can create their own, private wireless network. Setup can be easily done via iPhone, iPad, iPod touch, Mac computers or other smartphones. The S3i also offers an additional USB port, which allows connecting printers with USB cable to enable wireless printing for anyone in the wireless network - both, for Mac and PC users.
The new tLight features the very latest LED technology with a CRI (Color Redding Index) of 90, which is close to the perfect light, which is sunlight with a CRI of 100. This means great color authenticity and a stable and bright light providing a great reading experience without getting tired eyes. The S3i features a dimmer to perfectly adjust light output (20-100%) to a maximum of 700 lumens.
The tLight S3i also comes with remote control, Bluetooth 4.0 and 2 integrated 5W speakers powered by Apple's V2.0C authentication co-processor chip and a high-quality ST processor for a crystal clear sound experience. iPhone or iPod can directly play music when plugged into the Lightning dock or via Bluetooth. Other devices such as iPad, MacBook or other notebooks and tablets can also connect via Bluetooth to the tLight to play music. The S3i also has integrated Audio out ports to connect it to other Audio systems.
The tLights' design and features perfectly matches the needs of any Apple user. The powerful true-color light output, smartphone and tablet charging function and crisp sound output, plus the modern networking capability makes the tLight S3i, the ideal companion on any desk at home, office or in hotels.
The tLight S3i is priced at $259 and will be available at the stores after Dec. 28, 2015.
More information at: http://www.tlight.cc
Press Contacts:
Dennis Shia
Tlight Ltd.
Dennis@tLight.cc
00 852 2549 3629