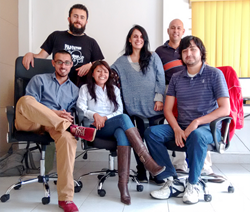 IDISC's new office in Xalapa helps it to give even better service uninterrupted for more than 16 hours.
Olesa de Montserrat, Spain (PRWEB) October 29, 2015
The collaboration agreement with Universidad Veracruzana [University of Veracruz] and the creation of a production site in Xalapa (Mexico) provide another impetus for iDISC in expanding to satisfy the growing demand for Latin American languages. This strengthens support for the team in Mexico City, while increasing participation in training future localizers.
During the last few weeks, new exchanges have been taking place between the Xalapa office and iDISC's headquarters in Barcelona, which has brought the team closer together, and fostered exchange of knowledge and coordination between the two time zones.
Starting now, the project managers in Mexico City will coordinate the local Xalapa team and will reinforce uninterrupted service for more than 16 hours, taking advantage of the time difference between the Barcelona and Xalapa offices.
This extension of service hours will provide faster support to the Mexican team and an improvement in the balances of work and specialization, which will lead to higher quality, efficiency, and faster turnaround times for our clients' projects.
About iDISC
iDISC Information Technologies was founded in 1987 by a group of computer and business specialists to satisfy business needs in the fields of information technology, translation, and global communications.
iDISC offers web portal development services and translation of multilingual and multicultural web content and marketing materials, so businesses can reach their clients anywhere, on any medium, and in the language of each of their clients.
According to the U.S. international consulting firm, Common Sense Advisory, iDISC is one of the best companies in Southern Europe in the field of translation and localization of computer products.
More information at iDISC website.