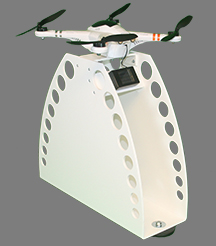 Be Seen Be Different
Burke, Virginia (PRWEB) October 29, 2015
Vehicle Drones were created to capture the attention of potential consumers out in the marketplace. Expanding on the traditional concept of car magnets/food delivery toppers, now businesses have the opportunity to really stand out while they're mobile. The base of the product emulates the look of crane legs giving the illusion that a vehicle is getting pulled through the air by a drone. The drone propellers spin while the vehicle is in motion even though the drone is not mechanically operated.
For example, the Vehicle Drone is a low cost way to advertise and promote a pizza delivery business. The optional solar LED lighting allows delivery drivers to "charge up" during the day and not require them to "plug in" to a power source at night. The drone automatically illuminates at dusk making it effortless for delivery drivers.
Patent Pending, lightweight PVC base design
Drone propellers spin while the vehicle is in motion (drone is not motorized)
Two-sided base design to highlight a product, service, favorite sport teams, special event, or wedding celebration
The optional solar LED lighting package comes on automatically at dusk after a full charge (typically 5 hours) and will illuminate for approximately 9 hours after sunset
Vehicle Drones has partnered with StickerYou.com to make this an easy and streamlined process for the end consumer. A specially created search box helps sports fanatics located their favorite team's die cut decal.