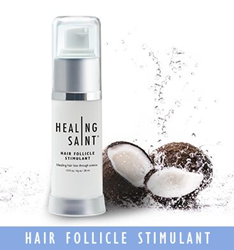 Marietta, Ohio (PRWEB) October 31, 2015
Dr. Jane Cases, one of the nation's leading endocrinologists, will be offering this year's lauded Latin GRAMMY® presenters and performers the opportunity to look and feel better through the power of science. Dr. Jane, founder of the Wellness 360 Comprehensive Lifestyle Center, will be including one of her signature products, the Healing Saint Hair Follicle Stimulant, in the official talent gift bags of the 16th Annual Latin GRAMMY Awards, which will air live on the Univision Network Nov. 19, from 8-11 pm ET/PT (7p.m. Central) from the MGM Grand Garden Arena in Las Vegas.
The Healing Saint Follicle Stimulant is a proprietary formula derived from polypeptide-enriched media and wound healing technology. It replaces what has been lost due to aging and replenishes the essential growth factors and cytokines in the hair follicle stimulating growth as well as reducing and preventing further hair loss, thickening hair roots and reducing premature hair breakage.

Helps reduce hair loss by replenishing the hair follicles natural growth factors, cytokines and proteins
Recaptures and maintains the youthful appearance and luminosity of hair without unpleasant side effects commonly associated with oral medications and cosmetic procedures
Effective for both men and women
To learn more about the Healing Saint product line and to sign up for Dr. Jane's blog, visit http://www.healingsaint.com. For the latest news, special offers and helpful tips follow Dr. Jane on Twitter, Facebook and Instagram: @drjane360.
About: Jane Cases, MD
Dr. Jane Cases is a board certified endocrinologist and leader in regenerative medicine. Her work focuses on endocrinology, diabetes and metabolism as well as stem cell therapy, platelet-rich plasma (PRP) therapy, aesthetics and much more. Her passion for total wellness and weight management led her to start Wellness 360 Comprehensive Lifestyle Center in Marietta, Ohio, where she serves as Chief Medical Officer. The development of Healing Saint products came from her passion to help patients who want to fully address or prevent lifestyle diseases. A leading researcher on cell medicine, Dr. Jane offers American Medical Association approved training courses for fellow physicians and has authorized dozens of peer-reviewed articles and studies in numerous scientific and medical journals. She holds active professional memberships with the American Boar of Internal Medicine, Endocrine Society USA, American Thyroid Association, American Association of Clinical Endocrinologist, European Association for the Study of Diabetes, American Academy of Anti-aging Medicine and the International Cell Medicine Society. In Addition, she has served as an Assistant Professor at Ohio University's School of Osteopathic Medicine.
Contact: (740) 373-2222
Email: info@healingsaint.com
###