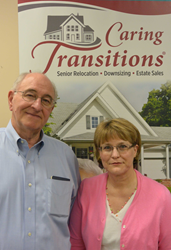 Couer d'Alene, ID (PRWEB) October 28, 2015
When Alan and Anne Beckley decided they wanted to start a new business, they knew they wanted to do it together and they wanted to make a positive difference in people's lives. That's why the two decided to open Caring Transitions Inland Northwest, which just launched in Coeur d'Alene and Spokane.
Caring Transitions is America's largest resource for managing senior relocations as well as downsizing and estate liquidations. In addition to organizing, packing, decluttering, moving and resettling, Caring Transitions can handle estate sales, liquidations and preparation of homes for market. Caring Transitions Inland Northwest serves Coeur d'Alene, Post Falls, Hayden, Hayden Lake, Dalton Gardens, Rathdrum, Spirit Lake, Twin Lakes, Athol, Rockford Bay, Harrison, Worley, Bayview, Fernan, Hauser, Plummer, St. Maries, Fernwood, DeSmet, Tensed and Santa in Idaho as well Spokane, Liberty Lake, Newman Lake, Mead, Country Homes, Nine-Mile Falls, Colbert, Deer Park, Chattaroy, Green Bluff and Town and Country in Washington.
"We decided we wanted to work together and this was a great opportunity to do that while serving a group of people in a way that really makes a difference. Our seniors are an underserved group and, as more and more seniors are moving while their children are spread across the country, someone needs to be able to step in as an advocate for those in transition. That's where Caring Transitions comes in," Anne said.
"This is work we feel good about doing and it's great that we can do it together. We're looking forward to making a difference and giving back to our community," Alan added.
Whether your situation is planned or unexpected, Caring Transitions services are perfect for seniors moving in with family or into a safer living situation, as well as for those busy families and people clearing out the home of a loved one who has passed. All of Caring Transitions services are customizable, so clients only pay for the services they need – whether that means managing the entire move and estate-clearing or just getting someone resettled into their new place.
Caring Transitions Inland Northwest is a woman-and veteran-owned senior services company. The Beckleys offer extensive experience in business, law, human resources management and religious education.
"Caring for seniors is our passion and our objective is to meet each client's individual needs. For me, this is about living out the gospel and making lives better. By working with Caring Transitions, families can spend their time together doing the things they love instead of trying to manage a move or estate sale," Anne said.
Anne and Alan are Certified Relocation and Transition Specialists, a designation bestowed by an independent organization that evaluates providers of senior relocation services. Caring Transitions Inland Northwest is bonded and insured, and all employees must pass a background screening. The Beckleys and Caring Transitions Inland Northwest are also proud members of the Coeur d'Alene Chamber of Commerce.
For additional information about Caring Transitions and to learn how the company can help you and your family, call (208)443-7101 or email ABeckley@CaringTransitions.com in Idaho or call (509)436-1629 or email LBeckley(at)CaringTransitions(dot)com in Washington, or visit http://www.CaringTransitionsInlandNW.com.