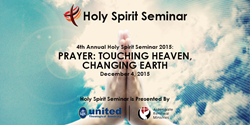 Dayton, Ohio (PRWEB) October 28, 2015
United Theological Seminary, Dayton, Ohio, and Aldersgate Renewal Ministries present the 4th annual Holy Spirit Seminar on Friday, Dec. 4, 2015, at Ginghamsburg Church, 6759 S. County Road 25A, Tipp City, Ohio.
Focusing on the theme "Prayer: Touching Heaven, Changing Earth," noted authors and speakers Dr. James W. Goll and Dr. Mark Virkler will lead participants through an exploration of prayer, intercession and the work of the Holy Spirit during the one-day conference.
Part of United's vision is to be "Spirit Led, Renewing the Church," and the annual Holy Spirit Seminar helps to fulfill that vision by offering a full Spirit-filled experience of anointed worship, practical teaching on the Spirit, prayer and a time for ministry and impartation.
The Holy Spirit Seminar will be livestreamed. Registrants will be contacted before the event with an address and password to view. For more information, including the complete schedule and cost, or to register, visit Holy Spirit Seminar. The registration deadline is Nov. 23.
United Theological Seminary is a graduate professional school of The United Methodist Church offering master's and doctoral theological degrees and continuing education with programs offered on campus and online. United's goal is to educate dynamic, Spirit-led leaders who will renew the church for the mission of Jesus Christ in the world.