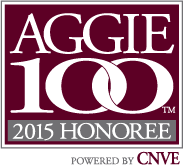 "We are thrilled to be a part of the best-of-the-best Aggie companies leading the way for entrepreneurial-minded students to follow."
College Station, Texas (PRWEB) October 30, 2015
CleanFUEL USA today announced that Texas A&M University recognized it as a member of the 2015 Aggie 100, which honors the fastest-growing companies in the world that are owned or operated by Texas A&M University former students. CleanFUEL USA was ranked 20th with a compound annual growth rate of 76.48 percent from 2012 through 2014. The Aggie 100, a program created by the Center for New Ventures and Entrepreneurship in Texas A&M University's Mays Business School, celebrates graduates from across disciplines for their entrepreneurial endeavors and success as business leaders.
A visionary company founded in 1993, CleanFUEL USA was the first in the U.S. energy industry to develop liquid propane fuel injection systems, and has maintained a reputation for providing safe, reliable, and cost-effective propane autogas vehicle and stations solutions for fleets. Its products comply with environmental regulations and help customers take advantage of domestically produced propane, driving down costs and emissions related to transportation of goods and services.
As research and development continues to be a core company function, customers reap immense benefits with CleanFUEL's consistent and leading-edge position in the alternative fuels industry. The company is poised to chart the way to continuous improvement in fuel options, equipment technologies, and fleet management. Aggie leaders include founder and managing director Curtis Donaldson ('81), board member John White ('70) and marketing director Crystelle Markley ('05).
"Our Texas A&M roots run deep at CleanFUEL USA and being inducted into the Aggie 100 is a huge honor, as it recognizes thriving businesses and their alumni leaders over the course of time," said Donaldson. "We are thrilled to be a part of the best-of-the-best Aggie companies leading the way for entrepreneurial-minded students to follow."
The 100 Aggie-owned or Aggie-led businesses with the highest annual revenue growth were recognized on Friday, October 23, 2015, at a formal luncheon in the Zone Club at Texas A&M University's football stadium, Kyle Field. More than 700 honorees, families, employees, faculty, administrators, and current student entrepreneurs were in attendance to celebrate their success.
"As we enter our second decade honoring business excellence with the 11th Annual Aggie 100, we reflect on all the Aggie businesses that came before and look forward to the future success of Aggie entrepreneurs to come. From agriculture to technology and everything in between, this year's list signifies that, no matter your background, the Aggie entrepreneurial spirit is alive and thriving," said Dr. Richard H. Lester, Executive Director of the Mays Business School's Center for New Ventures and Entrepreneurship. "Our sense of entrepreneurial pride swells each year, as we recognize how successful businesses can become by keeping the Aggie Code of Honor at the heart of everything they do."
The Aggie 100 list in its entirety may be viewed at http://www.aggie100.com.
About CleanFUEL USA:
CleanFUEL USA, the nation's first developer of liquid propane fuel injection systems, is a leading manufacturer of propane autogas dispensers and refueling infrastructure. Headquartered in Georgetown, Texas, with an engineering division in Wixom, Mich., CleanFUEL USA celebrates more than 20 years of innovation. Setting industry standards with a complete alternative fuel solution, CleanFUEL USA products offer unsurpassed economic and environmental advantages. Learn more at http://www.cleanfuelusa.com.
Connect on Twitter (@CleanFUELUSA), Facebook (facebook.com/CleanFUELUSA), YouTube (youtube.com/CleanFuelUSA1) and LinkedIn (linkedin.com/company/cleanfuel-usa).
###