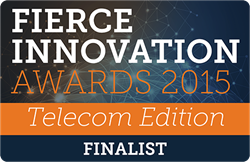 NI-DEFENDER prevents, pin-points, and neutralizes cybersecurity threats in SDN, NFV and today's networks
Ottawa, Ontario (PRWEB) October 29, 2015
Nakina Systems announced today that is has been selected as a finalist in this year's Fierce Innovation Awards: Telecom Edition, a reviewed awards program from the publishers of FierceWireless, FierceTelecom and FierceCable. Nakina was recognized as a finalist in the category of network security for attack detection, prevention and protection.
Nakina was selected as a finalist for its innovative, industry leading cybersecurity solution, NI-DEFENDER - a Secure Network Auditing Platform for SDN, NFV and today's heterogeneous networks. NI-DEFENDER provides Privileged Identity Access Management, Continuous Network Configuration Scanning and Advanced Analytics.
Finalists' applications were reviewed by an exclusive panel of executives from major telecommunications companies including U.S. Cellular, Cablevision, Verizon, TeliaSonera, Comcast, Sprint, and T-Mobile.
All applications were evaluated based on the following criteria: technology innovation, financial impact, market validation, compatibility with existing networks, end-user customer experience, and overall level of innovation.
"This recognition confirms the impact our solutions provide service providers who are facing new, advanced, network-based cybersecurity threats", said Rob Marson, Vice President of Global Marketing, Nakina. "The traction our Secure Network Auditing Platform has received since launching earlier this year has been tremendous."
About Nakina Systems
Nakina offers a suite of Network Integrity applications for securing, managing and optimizing physical and virtual networks. Nakina's applications are built upon our Network Integrity Framework - open and modular software platform that abstracts network complexity, normalizes multi-vendor management, and bridges the physical and virtual worlds for Management and Orchestration systems. Our software is proven, trusted and protects the world's largest and most important networks.
About FierceMarkets
FierceMarkets, a division of Questex, LLC, is a leader in B2B e-media, providing information and marketing services in the telecommunications, life sciences, healthcare, IT, energy, government, finance, and retail industries through its portfolio of email newsletters, websites, webinars and live events. Every business day, FierceMarkets' wide array of digital publications reaches more than 2 million executives in more than 100 countries.