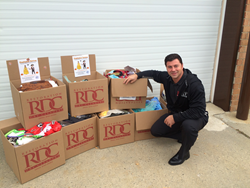 It's hard, as a dry cleaner, to think of different ways to give back," said Ferrara.
Bay Shore, NY (PRWEB) October 28, 2015
Restoration Dry Cleaners Inc. (RDC) CoFounder Chris Ferrara and Accounts Manager Ashley Rosselli collected over 200 costumes in their first annual costume drive to benefit the children from the Children's Aid Society in Manhattan, NY. This campaign lasted five weeks as Chris and Ashley collected new and used costumes, from their clients, and will be donated this week. The used costumes will first be cleaned before being donated to the Children's Aid Society.
The donation drive has been made possible thanks to the generosity of some of their insurance industry clients, Narragansett Bay Insurance, Servpro, AmTrust/ National General Insurance, Bullen Insurance, Independent Adjustment (IAC), and Advanced Restoration, to name a few. The success of the drive will enable the children to have access to costumes for their annual Halloween party that will take place on Saturday October 31, 2015.
RDC, who normally processes clothes that are damaged from fire, soot, mold and water, wanted to find a way to give back during the holiday season.
"It's hard, as a dry cleaner, to think of different ways to give back," said Ferrara. "I have always been a huge fan of Halloween and it is upsetting to think that so many children out there don't have the means or access to get a costume. So I saw an opportunity to help."
"How wonderful, this is great. We are quite excited about the donations," said Millie Colon Special Project Coordinator at Children's Aid Society.
Contact Information:
35 Fifth Avenue
Bay Shore, NY 11706
800-840-6665