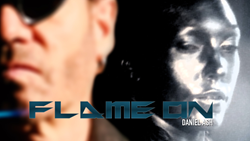 Ashland, Oregon (PRWEB) October 31, 2015
Daniel Ash is no stranger to innovation. In the late 1970's he and Peter Murphy formed the iconic English "dark glam" band, Bauhaus, and four weeks later recorded one of the most influential songs of the decade, "Bela Lugosi's Dead." Five years later, Ash was fronting a new band, Tones On Tail, and trying to sound "like a band from Venus or Mars." After that came the group Love and Rockets and the chance to experiment with electronic music, always trying "to make the guitar not sound like a guitar." Between world tours and a dozen albums, Ash has spent countless hours in "two-wheeled therapy". Riding one of his twelve motorcycles through the surreal California landscape, "clearing his mind." In fact it was motorcycles that brought Ash together with writer and fellow biker, Richard La Plante, author of the motorcycle memoir Hog Fever. And it was La Plante who knew that Ash would be perfect as one (or two) of the characters in his upcoming "movie without pictures" Hog Fever (directed by British music icon, Kevin Godley).
In La Plante's words, "Yep. I discovered him. On the Pacific Coast Highway, in black leathers, riding a matte black Shovelhead." Then I heard his song, Flame On and the rest is cinematic, or… 'Earomatic' history." To celebrate this union of chrome, leather, grease and creativity, the award-winning filmmaker, Benjamin Pollack, has written, directed and produced the rock video, Flame On.
Find the Flame On music video here: https://youtu.be/plKlSG-TR7s
Flame On is a featured track in Hog Fever – An Ear Movie, and available on the soundtrack album through Downpour.com.
Daniel Ash may be heard as the voices of, 'The Rock' and 'Pee Wee' in Hog Fever – An Ear movie, coming December 2015 to a podcast near you.