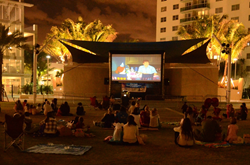 Sunny Isles Beach, Florida (PRWEB) October 29, 2015
The City of Sunny Isles Beach is ready for "the season" to begin in South Florida. From outdoor movies, special events, and concerts in the parks to trips to Broadway shows and sporting events, there are activities planned for everyone in November and beyond.
Tourists and residents alike will have a plethora of events to choose from as they make their leisure-time plans. Movies begin the month with the outdoor Family Movie Nights on Friday, November 6 (Heritage Park) and Saturday, November 7 (Town Center Park), starting time is 7 pm both nights. Next up is the indoor Golden Era Movie at Pelican Community Park, Tuesday November 10 at 10 am (reservations required).
Saturday, November 14 will find music lovers at Samson Oceanfront Park for a 7:30 pm performance by "Latin Beat." The next music offering is the three-day, 8th Annual SIB Jazz Fest, which kicks off November 20 at 8 pm at Acqualina Resort and Spa on the Beach. Saturday, November 21, the main event of the jazz fest will be held at Heritage Park from 7 – 10 pm. The weekend concludes Sunday, November 22 at Trump International Resort with a jazz brunch from noon to 4 pm. For information on pricing and to purchase tickets, visit sunnyislesbeachjazz.com.
That covers movies and music, now on to culture. Tickets for the winter season of the SIB Cultural Events go on sale for residents November 9. Choices include: "A Christmas Carol," Dr. Seuss's How the Grinch Stole Christmas Musical," "In the Mood," Florida Panthers vs. Toronto Maple Leafs, "I Love You Because" & Seminole Casino. Prices vary depending on venue. Purchase tickets early; many shows sellout within days of going on sale.
To stay informed about this and other events go to the official City website at sibfl.net, watch SIBTV, read the Living Magazine & Islander mailer, or follow the City on Twitter & Instagram (@CityofSIB), and on Facebook (City of Sunny Isles Beach). For more information please call Cultural and Community Services at 305.792.1706.