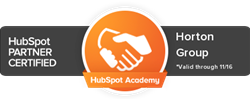 We are thrilled to welcome Horton Group to HubSpot's Partner Program.
Nashville, TN (PRWEB) October 29, 2015
Today, Horton Group announced that it has joined HubSpot as a Certified Agency Partner. HubSpot, the world's leading inbound marketing and sales platform, works hand-in-hand with Agency Partners to grow their businesses through inbound software, services and support.
Of the announcement, HubSpot Channel Account Manager Adrianne Mayshar said, "We are thrilled to welcome Horton Group to HubSpot's Partner Program. Their savvy, sophisticated and innovative approach to inbound makes them a company that businesses everywhere can learn from. Watching them transform their Agency with inbound has been a rewarding experience!"
Over the past year, Horton Group has grown its business by incorporating inbound strategies to attract, engage and delight customers. A Nashville-based web marketing agency, Horton Group focuses on helping businesses increase market share through web and app development, inbound marketing and strategic business development. The agency's team of web developers, inbound marketers, account managers and project managers posses in-depth knowledge and experience in creating and implementing effective marketing strategies for both local and national brands. Notable milestones and achievements include:

About Horton Group
Horton Group is a Nashville-based web, mobile and marketing agency founded in 1996 and also located in Southwest Florida. The agency's full suite of marketing services include web design, web development, mobile app development, inbound marketing, search engine optimization (SEO) and strategic business planning. Horton Group builds websites and critical marketing tools for effective online communication. The agency helps clients promote messages to current and prospective clients and, just as importantly, to maintain market share. Learn more at http://www.hortongroup.com.
About HubSpot
HubSpot ($HUBS) is the world's leading inbound marketing and sales platform. Since 2006, HubSpot has been on a mission to make the world more inbound. Today, over 15,000 customers in more than 90 countries use HubSpot's software, services, and support to transform the way they attract, engage, and delight customers. HubSpot's inbound marketing software, ranked #1 in customer satisfaction by VentureBeat and G2Crowd, includes social media publishing and monitoring, blogging, SEO, website content management, email marketing, marketing automation, and reporting and analytics, all in one integrated platform. Sidekick, HubSpot's award-winning sales application, enables sales and service teams to have more effective conversations with leads, prospects, and customers. Recognized by Inc., Forbes, and Deloitte as one of the world's fastest-growing companies, HubSpot is headquartered in Cambridge, MA with offices in Dublin, Ireland, Sydney, Australia, and Portsmouth, NH. Learn more at http://www.hubspot.com.