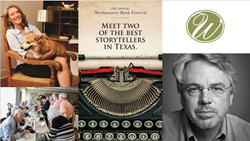 "Austin is blessed with extraordinary literary talent who generously offer their time and talents to our residents and guests at Westminster," said Heather Hart-Potts, director of sales and marketing.
Austin, Texas (PRWEB) October 30, 2015
Westminster senior living community, one of the first and largest retirement communities in Austin, recently wrapped up its second, hugely successful book festival featuring Pulitzer-Prize finalist Sam Gwynne, author of Empire of the Summer Moon and Rebel Yell, and Sarah Bird, five-time Best-Austin Author, a columnist for Texas Monthly, and recent winner of the Meryl Streep Film Lab. The Westminster Book Festival is one of the largest literary festivals hosted by a senior living community in the nation. In addition to attracting America's most gifted literary figures each year, more than a dozen resident authors showcase books they have penned on subjects from the evolution of Texas politics to the JFK Assassination, to the battle on water rights and land grants.
Both celebrity authors are brilliant storytellers. Sarah Bird kicked off the festival conveying humor and candidness about the perils of writing personal history. With trepidation she wrote about her own family's experiences in Japan in The Yokota Officers Club. Thankfully the book was well received by her family. She's also written real characters in her life disguised as fiction, which is a fun way to write cloaked commentary.
Sam Gwynne discussed the consuming process of capturing the essence of Confederate General Stonewall Jackson when the facts, figures and memories of that period reside in archives scattered across the country. He also announced that Empire of the Summer Moon recently sold its one-millionth copy, a testament to his loyal following of readers who appreciate American history.
Preserving Voices and Memories of the People You Love In Print and Audio
Westminster's residents continue to lead very rich lives, full of family and friends, love and loss. This year's festival workshop focused on the "Celebration of Heirloom Life Stories," where two instructors offered tips and tools to help attendees capture life's most precious narrative in print and on audio. Gretchen Sanders, a former KUT radio reporter and owner of Audio Archives, interviewed more than a dozen residents to recall memories of historic events in America, such as the bombing of Pearl Harbor and the Apollo 11 spaceflight to the moon. While residents offered emotionally charged recollections on the most important events and people who shaped their lives, they also offered advice to younger generations. Click here to listen to this poignant production.
One resident who recorded her memories was 100-year-old Margaret Berry, BA '37, Distinguished Alumna of the University of Texas, who earned a master's degree from Columbia University. Berry is the author of many books and the acclaimed essay Old Age is a Gift– Appreciating the Thrill of a Life Well-Lived at 100. Berry is a Texas treasure, whose words of wisdom have inspired a national following. Other interviewees included musicians, attorneys, business leaders and artists, who have been successful in their careers, raised families, traveled the world and contributed hugely to their communities.
Sanders was joined by Laura Cottam Sajbel, local author and creative writing instructor who specializes in the craft of autobiographies. She reminded the audience that capturing life stories can be done through short stories or chapters and that writing a part of one's history is cathartic for both writer and reader. Both archivists believe that story heirlooms offer a legacy every bit as important as material possessions passed down among generations.
The following is a combined list of instructor tips to trigger memories and offer advice to the next generation:
Tips to Document Life Stories in Print and Audio:

Set up a time and date to record memories over tape or by written word and find a professional partner, friend or family member to document this information.
Look through scrapbooks and yearbooks, create a memory box with favorite souvenirs, such as Girl Scout and Boy Scout badges, ribbons, military medals, certificates, letters, and jewelry with nostalgic value for discussion.
Write down names of people or relatives who have influenced your life. For example, who were your favorite teachers and why? Who was your favorite employer? What was the name of a favorite pet?
If interviewing a friend or relative to write or record their story, find a comfortable quiet room and make eye contact with the person who is recording this information.
Ask open-ended questions. Have an outline for your conversation but be ready to toss it aside it when the discussion takes an unexpected turn. If you go with the flow, you will cover what was meant to be covered. Trust that you will get the answers to the questions that needed answering most.
Emails, old letters and other past correspondence can make great short stories, often with little editing.
Get creative with thinking – discuss epiphanies, dreams, your favorite recipe and why it was special. What were the sights, smells, sounds, and experiences that permeated in your life?
If a friend or family member gathers this information, thank the person for taking the time to talk to you. Then, tell that person what he or she has meant to you. It doesn't have to be dramatic, but it is an exercise in love. It takes courage to have these intimate conversations, yet we come away as better people for having them.
Be yourself. Don't worry too much about following a script. It's supposed to be fun!
According to Heather Hart-Potts, director of sales and marketing, "Austin is blessed with extraordinary literary talent who generously offer their time and talents to our residents and guests. We value creativity at Westminster and appreciate the written and oral traditions that capture the great stories of life."
###
About Westminster
Established in 1967, Westminster is one of Austin's first and most established retirement communities. Operating as a not-for-profit community, Westminster is managed by Life Care Services LLC and provides modern residences, state-of-the-art health care and other amenities to residents seeking comfortable and culturally enriching lifestyles in Central Austin. For more information, call (512) 454-4711 or visit http://www.westminsteraustintx.org.