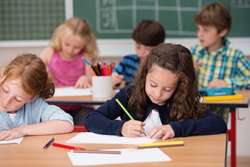 ...tremendous changes for students with dyslexia who previously received little or no support.
Seattle, WA (PRWEB) October 29, 2015
(From Dyslexic Advantage) - On October 23, 2015, the United States Department of Education issued an official statement to schools in response to a recent movement dubbed "Say Dyslexia". The grassroots effort has been spearheaded by parents, advocacy groups and national disability organizations across the country who were frustrated by teachers and principals who refused to recognize dyslexia.
Dyslexia is a brain-based difference that affects 1 in 6 people. It is typically identified in students with normal to high intelligence levels but who show unexpected challenges in accurate and / or fluent word reading, processing speed, and specific patterns of difficulty in writing and spelling. Dysgraphia, a disorder of written expression and dyscalculia, a math disability, are common accompaniments of dyslexia, but even less recognized formally in public school systems.
In the Dyslexia at School Survey 2015, conducted by the non-profit organization Dyslexic Advantage, over 60% of parents of students in US public school said that they were told by a teacher or principal that the term 'dyslexia' was not recognized. States where dyslexia was not formally recognized were more likely to have students taught below their intellectual level, denied accommodations and assistive technology, and to have students suffering emotional and psychological challenges due to difficulties at school.
"Failure to recognize dyslexia, dyscalculia and dysgraphia can result in inappropriate educational instruction and testing, putting students also at risk for underachievement and school failure," comments Dr. Fernette Eide, co-founder of Dyslexic Advantage and international authority on dyslexia and learning differences. "This letter could mean tremendous changes for students with dyslexia who previously received little to no support. While there's still much more work to be done, it's a step in the right direction."
The official DoE statement, issued by Michael Yudin, Assistant Secretary for Special Education and Rehabilitative Services, acknowledged that the department has received a number of communications from stakeholders who were concerned about the reluctance to reference dyslexia (as well as dyscalculia and dysgraphia) in evaluations and eligibility determinations by state and local educational agencies.
Yudin concluded the letter with the following statement: "I hope this clarification is helpful to both parents and practitioners in ensuring a high-quality education for children with specific learning disabilities, including children with dyslexia, dyscalculia, and dysgraphia."
To read the full DoE statement, please visit: http://www2.ed.gov/policy/speced/guid/idea/memosdcltrs/guidance-on-dyslexia-10-2015.pdf
###
Contact:
Fernette Eide M.D., Co-Founder
Dyslexic Advantage
Voice Phone: 1-800-757-8310 x 705
Fax Number: 425-609-0050
Email: drseide(at)dyslexicadvantage(dot)org
Website: http://dyslexicadvantage.org
Community: http://community.dyslexicadvantage.org