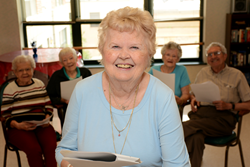 Bonnie Costello, a resident of the Quincy assisted living residence since 2012, says, "We have a lot of entertainment programs here, and I noticed a lot of people singing along. So I thought, 'How about starting a singing group?'"
Quincy MA (PRWEB) October 30, 2015
Allerton House at Hancock Park in Quincy announced it has started a new singing group. Research points to the value of socialization programs for older adults and the singing group, started by one of the Welch Healthcare and Retirement Group's assisted living residents, is open to all residents.
The Quincy assisted living community has always provided musical entertain for the residents, but the fact that even more music is in the air these days at Allerton House at Hancock Park, is thanks to a bright idea from Bonnie Costello. Costello, a resident of the Quincy assisted living residence since 2012, says, "We have a lot of entertainment programs here, and I noticed a lot of people singing along. So I thought, 'How about starting a singing group?'"
The U. S. Census Bureau estimates that by 2050 the number of individuals 65 or older in the United States will be 83.7 million – nearly double the figure of 43.1 million in 2012. The increasing number of older adults will continue to fuel the need for senior housing and the socialization services they provide.
Costello, who sang in her church choir for 20 years, brought the idea to the activities director, and the residents' signing group began meeting soon after, singing the classics like "My Wild Irish Rose," "Let Me Call You Sweetheart," and "Yankee Doodle." "Everyone is welcome," says Costello. "You just have to like to sing!"
The family-owned Welch Group offers five assisted living communities along the South Shore, in Duxbury, Hingham, Marshfield, Quincy and Weymouth. The company has grown to encompass six nursing and rehabilitation centers, two independent living communities, the only continuing care retirement community from Boston to Cape Cod offering garden homes, two memory care assisted living communities, and three adult day health centers. For more information about Welch Healthcare and Retirement Group visit online at: http://www.welchhrg.com