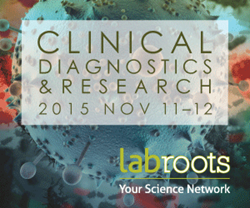 Yorba Linda, CA (PRWEB) October 28, 2015
The field of clinical diagnostics and allied areas of research and medicine are a hotbed of innovation, offering diverse tools for detecting disease and better understanding its mechanisms. Keeping current on developments can be challenging.
LabRoots, the premier producer of interactive virtual events for clinical diagnostics and life sciences professionals, will soon host its annual conference spotlighting recent advances.
At the LabRoots Clinical Diagnostics and Research Virtual Event 2015, a two-day event presented entirely online, attendees need not leave their lab, desk, or home base to attend a range of notable presentations from world-renowned experts. Interactive live-streaming video sessions include question-and-answer sessions, and participants can earn free CME and CE continuing education credits. Attendees can also chat live with peers and with the speakers following the presentations.
Explore the virtual exhibit floor, brimming with vendors showcasing the latest products and services.
The event will be held from November 11 to 12, 2015.
Clinicians, researchers, medical experts, and professionals from around the world convene for this conference—which is free for attendees—to learn and interact with a community of like-minded colleagues—minus the inconvenience of a long plane flight, costly hotel room, or days away from work.
Topics include Personalized Healthcare, Pathology, Oncology, Infectious Disease, Laboratory Testing, Cardiology, Diabetes, Point of Care, Molecular Diagnostics, Hematology, Automation, Nutrition, Vitamin D, Allergy, Clinical Research, Mass Spectrometry, and much more.
The keynote presentations are as follows:
Evolution of Standardization in Laboratory Medicine
Speaker: Linda Thienpont, PhD, PHARM, Clinical Chemist, Professor of Analytical Chemistry, Statistics and Quality Control, Method Development and Validation; Director of the Laboratory for Analytical Chemistry ID-MS Reference Laboratory, University of Ghent, Belgium
Optimizing the use of laboratory testing services to improve patient diagnosis
Michael Laposata, MD, PhD, Chairman of Pathology, University of Texas Medical Branch and
Julie R Taylor, PhD, MS, Project Lead for Clinical Laboratory Integration into Healthcare Collaborative CLIHC, Division of Laboratory Science and Standards, Centers for Disease Control and Prevention (CDC)
FDA's Proposed Framework for Regulatory Oversight of Laboratory Developed Tests
Katherine (Katie) Serrano, Deputy Director, Division of Chemistry and Toxicology Devices, Office of In Vitro Diagnostics and Radiological Health, Food and Drug Administration Center for Devices and Radiological Health
For more information about the event, obtaining continuing education credits, and to register, visit the LabRoots website.
Use #BCLclinical to follow the conversation.
About LabRoots:
LabRoots is the leading scientific social networking website and producer of educational virtual events and webinars. Contributing to the advancement of science through content sharing capabilities, LabRoots is a powerful advocate in amplifying global networks and communities. Founded in 2008, LabRoots emphasizes digital innovation in scientific collaboration and learning, and is a primary source for current scientific news, webinars, virtual conferences, and more. LabRoots is the owner and producer of BioConference Live – which has grown into the world's largest series of virtual events within the Life Sciences and Clinical Diagnostics community.