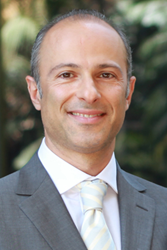 "The findings of this study are very promising because it could lower the fear factor sometimes associated with traditional needle biopsies," said Dr. Michel
Beverly Hills, CA (PRWEB) November 02, 2015
According to the findings of a new study presented to the American Urological Association 2015 Annual Meeting Press Event, researchers from NewYork-Presbyterian/Columbia University Medical Center found that Exo106, a urine test developed by Exosome Diagnostics can screen for high grade prostate cancer with as much as 92 percent accuracy.
The comprehensive national study compiled data on 1600 men over the age of 50 with no history of prostate cancer. In lieu of a traditional needle biopsy, the subjects were given the Exo106 urine test, also known as a liquid biopsy. Known as a negative predictive test, it screens the urine for the presence of exosomes. Exosomes contain RNA strands that can be tested for cancer genes. The study found that patients with a negative result were as much as 92 percent likely not to have high grade prostate cancer.
"We're always looking for new ways to make prostate cancer screenings as accurate and as minimally invasive as possible. The findings of this study are very promising because it could lower the fear factor sometimes associated with traditional needle biopsies, and therefore help us to screen more men for prostate cancer, and potentially save more lives," said Dr. Michel, a leading urologist in Beverly Hills.
While the test is still in the trial stage and pending FDA approval, the researchers anticipate that it has the potential to reduce needle biopsy use by as much as 27 percent. In addition to the invasive nature of traditional needle biopsies, the results can produce false or unclear results, and are not sophisticated enough to always distinguish between high grade prostate cancer and other forms.
"Prostate cancer is very treatable when caught in the early stages and getting an accurate and early diagnosis is critical for proper treatment. Offering individualized, patient specific treatment for prostate cancer is our top priority at Prostate Cancer Specialists of Los Angeles, so we're very excited to see how the liquid biopsy modality evolves," added Dr. Michel.
Dr. Michel graduated from Whitman College where he was a Presidential Scholar for four years before attending the University of Washington School of Medicine, where he graduated with Honors and was recognized by the National Medical Honor Society (AOA). Dr. Michel then completed a prestigious six-year residency program in Urologic Surgery at UCLA, where he was recognized as a Pfizer scholar in Urology. After residency, Dr. Michel completed a fellowship in Urological Oncology and advanced surgical techniques also at UCLA. During his fellowship, Dr. Michel's efforts were recognized by the American Cancer Society, the National Cancer Institute, and the American Foundation for Urologic Disease.
The Prostate Cancer Specialists of Los Angeles Center is an outpatient urological facility located in the heart of Beverly Hills. The physicians at Prostate Cancer Specialists of Los Angeles Center are board-certified urologists with specialty training in a number of different aspects of urology and provide tailored care for their patients with outstanding results. Call them today at (310) 341-2557 or visit their website: http://prostatecancerdr.com/