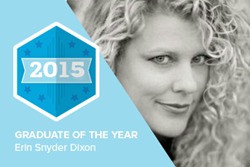 Keeping equipment in peak condition protects the environment and slows the stream of unused equipment entering our landfills.
Newport News, Va. (PRWEB) October 29, 2015
Erin Snyder Dixon, manager of Orlando's Landscaping was chosen as the 2015 Graduate of the Year by the Penn Foster family of schools, after successfully completing a diploma in Small Engines.
The Orlando's Landscaping motto is, "When knowledge defines who you are." President, Stephen Orlando personally sees that every employee is on an education track to constantly improve personal skills. Orlando's is a leading commercial landscaping company, dedicated to meeting the esthetic needs of clients while working to reduce the environmental impact on the environment.
As part of a strategy to reduce staff down-time, increase equipment longevity, and reduce contributing to landfill waste, Orlando's implemented a program to bring more maintenance and repairs in-house. This initiative offered staff members an opportunity to expand responsibilities and make a positive environmental impact, resulting in less down-time, reduced emissions due to transportation of equipment to repair, and reduced repair costs.
As part of implementing the program, Erin Snyder Dixon enrolled in the Penn Foster Career School Small Engine Program. Snyder Dixon already had a strong background in mechanical repair, including automotive and outdoor power equipment, so it was a logical step to earn the solid credentials needed to kick off the program and solidify relationships with vendors.
"I'm happy to be hands-on in the shop or field," says Snyder Dixon. "If we can support staff with new skills while honoring our environment, we all win. Keeping our equipment operational and safe longer makes good business sense and reduces the constant influx of landfill waste."
"I had no idea when I enrolled in the program that it would end with me being chosen and 2015 Graduate of the Year. Orlando's Landscaping always supports our educational efforts, says Snyder Dixon. "Their support made this possible, working 45+ hour weeks and going to school never felt like a chore, it was an amazing feeling. Not once did it matter that I am a woman in a male-dominated field. The reaction has been quite positive and my male coworkers have always supported me. There are so many opportunities for women in the landscaping industry. I just hope this shows that there is a place for women in skilled trades, such as mechanics. "
Erin Snyder Dixon will be recognized during graduation, on the Penn Foster campus, in Scranton, PA, on November 7th, 2015. Her family is being flown in by Penn Foster to participate in the weekend activities, including a special dinner with her instructors honoring her effort and celebrating the 125th anniversary of the school. Snyder Dixon's grandfather was a graduate of the school in 1932 and 1938. Her father moonlighted teaching automotive mechanics at Thomas Nelson Community College, including a special program designed for women in the 1970's. Snyder Dixon holds a degree in Business management, numerous certifications, and actively writes for the trade publications and is a two-time best selling author.
Details of the Graduate of the Year announcement and Snyder Dixon's winning essay can be found http://community.pennfoster.edu/docs/DOC-63324
Contact Erin Snyder Dixon or Stephen Orlando 747-873-6745
OrlandosLawnteam(at)aol.com