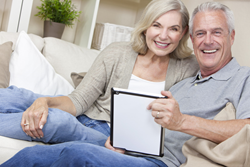 Cremation pre-planning is a gift of convenience and security our members can give their families to help ease the burden during what will be a difficult time. Our new website provides the tools our customers want to do this even more conveniently and with
(PRWEB) November 03, 2015
According to Tim Nicholson, President of Neptune Society, "Neptune Society has helped to change the modern funeral industry through innovation and attention to detail. The company vision is to help families plan for end of life transitions in a caring and affordable manner. As Baby Boomers and Generation X age and are more comfortable making important decisions online, companies like the Neptune Society must respond to these changing purchasing habits by providing options to allow consumers to research, select and purchase the services they desire online."
Neptune Society of Ohio's cremation pre-planning website allows arrangements to be made and purchased well in advance of when the services will be needed. This allows families and individuals to approach this important aspect of planning for the future much as they do estate planning, making important arrangements before there is a need. Neptune Society also offers informational seminars and one-on-one consultations with staff regarding the many benefits of pre-planning.
According to Tamara Burkey, Service Manager of Neptune Society of Ohio's Cleveland office, "Cremation pre-planning is becoming a more popular option for many of our families. With our new e-commerce website, making cremation arrangements in advance has become much more convenient, and attractive to younger consumers who prefer making arrangements online."
A recent survey conducted by the National Funeral Directors Association indicated that 66 percent of adults would choose to pre-arrange their own funeral service if given the option, but only 25 percent have already made these arrangements. Online shopping is growing rapidly as well, with more than 64% of people ages 45 – 54 preferring to shop online, and more than 68% of Baby Boomers ages 55 – 64 shopping online.
Tamara Burkey, Service Manager of Neptune Society of Ohio stated, "Cremation pre-planning is a gift of convenience and security our members can give their families to help ease the burden during what will be a difficult time. Our new website provides the tools our customers want to do this even more conveniently and with less stress. It will be an increasingly popular option as consumers shift their habits online."
On Neptune Society of Ohio's e-commerce site, individuals choose the plan that best meets their needs and then proceed through the purchase process in 4 simple steps. The Neptune Society also offers travel and relocation services within their "Worldwide" plan which extends the coverage area nationally and internationally.
For more information, please contact Tamara Burkey, Service Manager at Neptune Society of Ohio, at (216) 404-4556. The Neptune Society operates in Ohio in affiliation with Burkey Funeral Home.