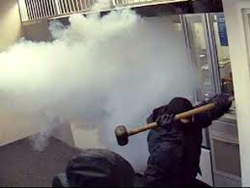 Wellington, FL (PRWEB) November 03, 2015
A unique security solution, SmokeCloak® EASY, combining fog coverage with DNA marking of intruders, was announced today by its manufacturer and North American distributor. Ontario, Canada-based Smoke Solutions, exclusive distributor of SmokeCloak fog security products in North America and MSS Professional A/S announced that SmokeCloak EASY is available immediately (MSRP $2399) and will ship standard with a forensic DNA signature that's unique to each location.
MSS Professional recently entered into a 3-year agreement with Applied DNA Sciences, of Stony Brook New York, for supply of the DNA material.
The unique SmokeCloak DNA security fog system fills an area with a thick and disorienting fog and deposits a unique, location-specific DNA marker on skin, clothing, and stolen items. SmokeCloak EASY is the latest in technology from MSS that offers excellent fog coverage from a compact system at an attractive price point.
SmokeCloak EASY is the perfect addition to a security system that needs coverage immediately after alarm activation. The national average for police response is approximately 7 minutes for alarm calls and in many cases, much longer, leaving a store or property unprotected.
Video and more detail on the system can be found on the company's web site, here. http://www.smokesolutions.net.
Kevin Paul, President Smoke Solutions, stated, "Over my 19 years devoted to SmokeCloak®, I have seen the many businesses that it has saved when they had nowhere else to turn. I can't help but feel a sense of pride. Now with SmokeCloak EASY DNA we can offer unsurpassed and affordable target hardening, together with DNA technology, the gold standard in positive ID."
Larry McIntosh, Director of Sales and Marketing, Smoke Solutions, commented, "We feel so strongly about the Forensic DNA technology that we're including it as a standard feature with SmokeCloak EASY, giving every location a unique DNA signature tying the intruder to the crime. This becomes a powerful tool for law enforcement and builds a valuable deterrent effect."
Smoke Solutions is also announcing the availability of DNA kits that allow the unique DNA signature to be added to existing SmokeCloak systems in the field. Two kits are available, $199 MSRP (kit for SY 2000 and EASY machines) and $249 MSRP (kit for the larger VALI model machines). The kit is easily mixed with fluid in the field, by your security professional or from Smoke Solutions support personnel.
About Smoke Solutions
Smoke Solutions, based in Barrie, ON, Canada has been the exclusive distributor for Smoke Cloak products for over 19 years, focusing all its efforts on the security and fire training industries in North America. Smoke Solutions, a division of Smoke & Screen Security Systems, is a North American supplier of specialized smoke generators used for Instant Protection Security Systems, the Fire Training industry and Migration and Ventilation testing systems.
About SmokeCloak
With operations in more than 50 countries throughout the world and more than 20 years of experience, SmokeCloak is the market leader within fog solutions. Whether it is about reducing losses in the initial minutes of a break-in or reducing personal risk at fire training sessions, our fog solutions provide instant safety.
Media/Program inquiries:
Larry McIntosh: larry.mcintosh(at)smokesolutions(dot)net, 617.470.4822
Kevin Paul:kgpaul(at)smokesolutions(dot)net, 905.717.2074
Website: http://www.smokesolutions.net.